Review of Futurama: Series 3
Introduction
It`s no surprise that The Simpsons is one of the biggest shows on the planet. It took the soap opera conventions that we are so familiar with, and with a cartoon family Matt Groening created a show that is consistently funny, witty and is always tuned into popular culture. It`s a show that everyone can relate to in some way, and consequently its loyal audience covers a wide demographic. But if there is one demographic that can demonstrate even greater loyalty and can appreciate subtle references, it`s people like Springfield`s very own Comic Book Guy, or as we like to be known, Sci-fi fans. For a while we got our very own show from the man who created the Simpsons, it was called Futurama and we all gave thanks. I gave thanks a little less often thanks to Channel 4`s innovative scheduling policy (involving a blindfold and a dartboard) but the few times I saw it, moments like when Fry fought Dr. Zoidberg to the theme from the Star Trek episode Amok Time, left me feeling `goose-pimply all over`. I leapt at the chance to review Season 3, but the curse of C4 struck again, and I missed out on disc 2.
Philip J. Fry, Pizza delivery boy was frozen for a thousand years and woke up just in time for the fourth millennium. Entering a wondrous world where every expectation of the future had been fulfilled, he was psychoanalysed and placed into his ideal futuristic career, as a delivery boy for Planet Express. These are the continuing voyages of… Futurama: Season 3
The discs contain the following episodes…
Disc 1
Amazon Women In The Mood: Leela and Amy go on a date with Zapp and Kif, but it all goes wrong when the restaurant crashes into the planet of the Amazon Women.
Parasites Lost: After eating a service station sandwich, worms take up residence in Fry`s gastro-intestinal tract, immediately doubling his IQ.
A Tale Of Two Santas: It`s Xmas time so duck and cover, because Santa Claus is coming to town. This time Fry means to bring back the spirit of Xmas past.
The Luck Of The Fryrish: When Fry`s luck takes a turn for the worse, he resolves to find his lucky seven-leafed clover, lost in old New York for 1000 years.
The Birdbot of Ice-Catraz: Bender is made Captain when the crew have to tow a supertanker of dark matter. Naturally disaster results when they fly too close to a penguin sanctuary on Pluto.
Bendless Love: Bender goes back to work to satisfy his bending urges and falls in love with Angle-Lyne, but gets in trouble with the Robot mafia.
Disc 2
According to the promotional material I got with the discs, the episodes on this disc are, The Day The Earth Stood Stupid, That`s Lobstertainment, The Cyber House Rules, Where The Buggalo Roam, Insane In The Mainframe and The Route Of All Evil.
Disc 3
Bending In The Wind: An unfortunate accident with a can opener offers Bender the chance for a new career.
Time Keeps On Slipping: Existence is threatened when time fractures, and only the Harlem Globe Trotters can save the universe.
I Dated A Robot: When Fry starts dating Lucy Liu-bot, his friends get concerned and take the fight directly to Nappster, the celebrity download site.
A Leela Of Her Own: Leela gets to play Blernsball for the New New York Mets.
A Pharoah To Remember: Bender gets depressed when his life seems meaningless, but he sees the chance for posterity on an alien ancient Egyptian planet.
Disc 4
Anthology Of Interest Part II: The Professor perfects his What If? machine, and certain questions must be asked, and answered.
Roswell That Ends Well: 1947, New Mexico and a familiar ship crashes in the desert. It`s not easy for the crew to fit in and avoid changing history, especially as Fry is dead set on not having been born.
Godfellas: Bender finds it hard being a deity, drifting through space for all eternity with a civilisation on his chest and ass.
Future Stock: A hostile takeover of Planet Express sees the Professor displaced as CEO by a cryogenically revived 80s whiz kid.
The 30% Iron Chef: Bender`s cooking is unappreciated, so of course he runs away for a Karate Kid homage.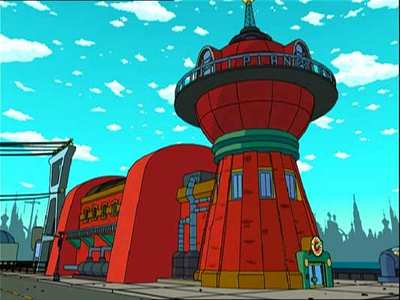 Video
The episodes are all presented in a 4:3 regular format. There doesn`t seem to be any technical issues with the transfer and everything is just hunky-dory. The Futurama characters are all drawn in the style familiar from the Simpsons, i.e. large eyes and excessive overbite. One thing that is readily apparent is the quality of the character animation is initially disappointing, seeming quite computer drawn and crude. However the 3D animation is stupendous and occasionally breathtaking, and when you also take into account the richly detailed worlds that these characters inhabit then the show as a whole ends up as a visual treat.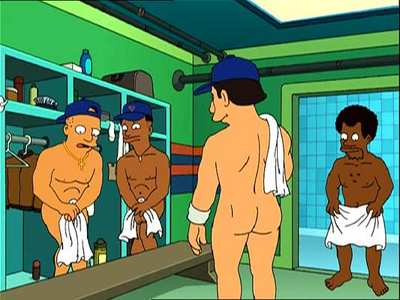 Audio
DD 2.0 Surround all around for both the episodes and the commentaries. The sound is just fine with the dialogue always clear and the effects quite well accomplished. Watch out for some great aural gags, Bender sounding like R2D2 when he is deactivated, or the ship sounding like the Millennium Falcon is one scene. Futurama also has one of the best theme tunes going.
It should also be noted that several episodes have an additional French DD 2.0 soundtrack. From Disc 1, that is all episodes except A Tale Of Two Santas, Disc 2 I don`t have, Disc 3 has French sound for Bending In The Wind, Time Keeps On Slipping and I Dated A Robot but by disc 4, the love affair with all things Gallic has ended and there are no French episodes.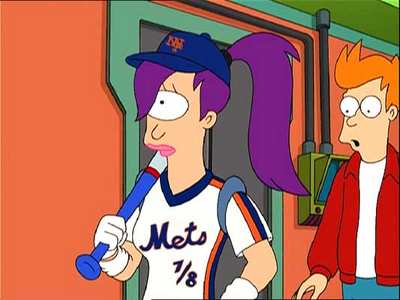 Features
Futurama Season 3 comes with a large selection of extras designed to suit all tastes. All the discs come with their own themed animated menus (1.85:1 anamorphic) which are great to look at and easy to navigate.
Every episode on the discs also comes with a cast and crew commentary. The noticeable thing being the party atmosphere and light hearted nature of the conversations. They may not always be relevant but they are always funny and well worth listening to. As a bonus, Roswell That Ends Well gets an additional commentary from the animators.
There are deleted scenes for every episode except the following, The Route Of All Evil, I Dated A Robot, Bendin` In The Wind, Anthology Of Interest Part II and Godfellas. Again with the funny, but it`s a shame they can`t be reintegrated.
Additional features on Disc 1 include…
A gallery of storyboards for Parasites Lost.
Three Easter eggs; One gives a slideshow of alternate captions that start the show, one is a special Xmas message from David X. Cohen and finally there is a table read for A Tale Of Two Santas. Presented in audio form this lasts over an hour.
Extra goodness on disc 4 includes…
A brief guide to drawing Fry and Leela with the aid of a stills gallery of pencil sketches.
A still gallery of alternate characters with 57 pictures.
9 3D models of objects used in the show from rough draft and with commentary
The entire Anthology Of Interest Part II episode in pencil animatic form.
International clips in French, Italian, Spanish and English, just change the soundtrack with your audio button.
Finally there are trailers for Season 1, 2 and the Futurama console game.
On every disc, the alien copyright message can also be translated by means of an Easter egg.
All the extras, including the commentaries are subtitled.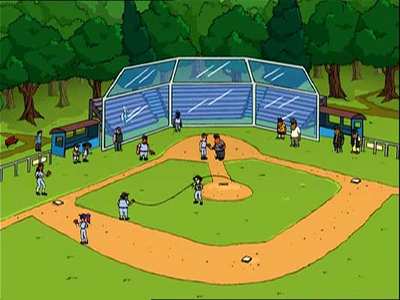 Conclusion
One of my biggest disappointments was when sitting down in my cinema in 2001 to watch a Fox movie, and finding the logo hadn`t been updated. OK, so rebranding is a costly exercise not to be taken lightly, but would it have hurt that much to change the name to 21st Century Fox, after all it is just once every hundred years. At least Futurama soothes that little itch, with a nice 30th Century Fox logo.
This conclusion is a little hard for me to write, as I can`t find fault with Futurama: Season 3. I love it, it`s brilliant, it`s inspired, and it`s hilarious and any other positive descriptive that you can think of. That `goose-pimply` feeling I mentioned struck me during every episode and I was in stitches of laughter throughout. It works on many levels and will appeal to a wide audience, despite the sci-fi tag. Just like the Simpsons, it is a character comedy that is more about relationships than the story-telling mechanism. The cast is brilliant in bringing to life a wide variety of strange characters. The episodes cover a wide spectrum of stories, from the downright hilarious like A Leela Of Her Own and Roswell That Ends Well, to the bittersweet like Time Keeps On Slipping and The Luck Of The Fryrish and the philosophical like Godfellas. The comedy is sidesplitting with slapstick and verbal gags galore with a liberal sprinkling of in jokes and movie references for good measure.
Now it could be that Disc 2 contains nothing but duffers, but after having seen character sketches of Harold Zoid, and the episode title That`s Lobstertainment, I`m going to go out on a limb and assume that the high quality is maintained throughout. After having seen ¾ of Futurama: Season 3, I find it even harder to believe this brilliant show was cancelled. For me this boxset is worth it for Dr. Zoidberg alone. Everything else is just a bonus. Make room on your melamine DVD shelf for this, it`s a winner.