WWE: Finn Bálor: For Everyone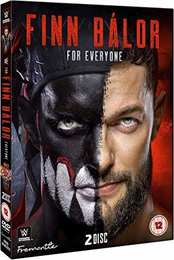 Certificate: 12
Running Time: 360 Mins
Retail Price: £14.99
Release Date: 25/11/2019
Content Type: TV Series
Synopsis:
From the moment he stormed onto the scene in NXT, Finn Bálor had an immediate connection with the WWE Universe.

Whether he was smiling & laughing with the crowd, or in that deep dark place as The Demon, Finn always came to the ring prepared to wow the audience.

Gifted with agility, heart and a dedicated fan base, Ireland's own Finn Bálor followed his childhood dreams to become one of WWE's breakout Superstars. Now, experience the rise of The Extraordinary Man That Does Extraordinary Things as he engages in rivalries with Roman Reigns, Brock Lesnar, Seth Rollins, Samoa Joe, and others on his quest to be one of the greatest Superstars of all time. Get an exclusive glimpse into the "too sweet" life of the man behind The Demon with Finn Bálor: For Everyone.

Now, witness 16 of Bálor' greatest and most memorable matches, including bouts with Kevin Owens, Shinsuke Nakamura, Samoa Joe, Seth Rollins, Roman Reigns, John Cena, and many more.
Special Features:
Matches:

NXT Championship #1 Contender's Semi-Final Match
Finn Bálor vs. Hideo Itami
NXT • February 4, 2015

NXT Championship #1 Contender's Match
Finn Bálor vs. Adrian Neville
NXT Takeover: Rival • February 11, 2015

NXT Championship Match
Kevin Owens vs. Finn Bálor
Beast in the East • July 4, 2015

Dusty Rhodes Tag Team Classic Semi-Final Match
Finn Bálor & Samoa Joe vs. Scott Dawson & Dash Wilder
NXT Takeover: Respect • October 7, 2015

NXT Championship Match
Finn Bálor vs. Samoa Joe
NXT Live [Lowell, MA] • April 21, 2016

Winner Faces Seth Rollins at SummerSlam for the Universal Championship
Finn Bálor vs. Roman Reigns
RAW • July 25, 2016

Universal Championship Match
Finn Bálor vs. Seth Rollins
SummerSlam • August 21, 2016

Finn Bálor vs. AJ Styles
TLC • October 22, 2017

Finn Bálor, Luke Gallows & Karl Anderson vs. Roman Reigns, Seth Rollins & Jason Jordan
RAW • January 8, 2018

Intercontinental Championship Match
Seth Rollins vs. Finn Bálor
RAW • April 30, 2018

Universal Championship Match
Roman Reigns vs. Finn Bálor
RAW • August 20, 2018

Finn Bálor vs. Jordan Devlin
NXT UK Takeover: Blackpool • January 12, 2019

Fatal 4-Way Match to Determine the #1 Contender for the Universal Championship
Finn Bálor vs. John Cena vs. Drew McIntyre vs. Baron Corbin
RAW • January 14, 2019

Universal Championship Match
Brock Lesnar vs. Finn Bálor
Royal Rumble • January 27, 2019

Intercontinental Championship Match
Bobby Lashley vs. Finn Bálor
WrestleMania • April 7, 2019

Finn Bálor vs. Ali
SmackDown Live • April 16, 2019

Related Websites:
https://www.wwedvd.co.uk/finn-balor-everyone-order-p-12709.html?osCsid=f9c0cc696bd9ce519845823afb9464a0

Distributor:
Fremantle Home Entertainment