WWE: AJ Styles Most Phenomenal Matches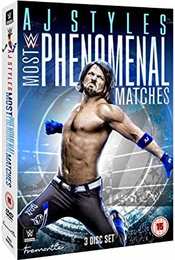 Certificate: 15
Running Time:
Retail Price: £18.99
Release Date: 05/11/2018
Content Type: TV Series
Synopsis:
Since joining WWE in 2016, AJ Styles has truly become The Face That Runs the Place on SmackDown Live, impressing audiences with unbelievable athleticism and undeniable fortitude.

For the first time ever, WWE Home Video collects AJ Styles most phenomenal matchups from his first two years in WWE featuring unforgettable bouts with John Cena, Chris Jericho, Shane McMahon, Kevin Owens and more!

20 Matches of Phenomenal action!
Special Features:
Raw
AJ Styles vs. Chris Jericho

Raw
WWE Tag Team Championship
AJ Styles and Chris Jericho vs. The New Day

Wrestlemania 32
AJ Styles vs. Chris Jericho

Raw
Fatal 4-Way Match to Determine #1 Contender for WWE World Heavyweight Championship
AJ Styles vs. Kevin Owens vs. Chris Jericho vs. Cesaro

Payback 2016
WWE World Heavyweight Championship
Roman Reigns vs. AJ Styles

Extreme Rules 2016
Roman Reigns vs. AJ Styles

Summerslam 2016
AJ Styles vs. John Cena

Backlash 2016
WWE Championship
Dean Ambrose vs. AJ Styles

TLC 2016
TLC Match for WWE Championship
AJ Styles vs. Dean Ambrose

Royal Rumble 2017
WWE Championship
AJ Styles vs. John Cena

Smackdown Live!
Triple Threat for WWE Championship
John Cena vs. AJ Styles vs. Bray Wyatt

Wrestlemania 33
AJ Styles vs. Shane McMahon

Smackdown Live!
Triple Threat to Determine #1 Contender for US Championship
AJ Styles vs. Sami Zayn vs. Baron Corbin

Smackdown Live!
AJ Styles vs. Chad Gable

Smackdown Live!
Triple Threat for the US Championship
AJ Styles vs. Kevin Owens vs. Chris Jericho

Smackdown Live!
WWE Championship
Jinder Mahal vs. AJ Styles

Survivor Series 2017
Champion vs. Champion
AJ Styles vs. Brock Lesnar

Wrestlemania 34
WWE Championship
AJ Styles vs. Shinsuke Nakamura

Money in the Bank 2018
Last Man Standing Match for WWE Championship
AJ Styles vs. Shinsuke Nakamura

Smackdown Live!
AJ Styles vs. Andrade 'Cien' Almas

Distributor:
Fremantle Home Entertainment