WWE: Seth Rollins - Building The Architect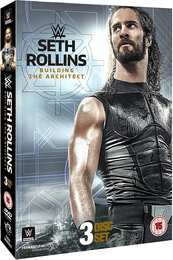 Certificate: 15
Running Time: 526 Mins
Retail Price: £20.99
Release Date: 29/05/2017
Content Type: TV Series
Synopsis:
'The Architect' has created the perfect blueprint for success with multiple championships, a massive fan base, and a plethora of incredible matches under his belt.

Now for the first time ever, hear from Seth Rollins himself as he tells his story of how he became a sports-entertainment megastar. From his time on the independent scene, to being one of the founding members of The Shield, to his WWE Championship victory, Seth Rollins gives insight on how he became 'The Undisputed Future' of WWE.

Features 19 Matches from FCW, NXT, his debut in WWE and time in The Shield and beyond!
Special Features:
Matches:
FCW

Seth Rollins vs. Hunico

FCW 15 Championship
Seth Rollins vs. Dean Ambrose

FCW Championship
Seth Rollins vs. Leo Kruger

NXT

NXT Championship
Seth Rollins vs. Big E Langston

WWE

Elimination Chamber 2013
The Shield vs. John Cena, Ryback and Sheamus

Wrestlemania 29
The Shield vs. Randy Orton, Big Show and Sheamus

Raw April 2013
The Shield vs. Undertaker, Kane and Daniel Bryan

Battleground 2013
Rhodes Family Career on the Line
Seth Rollins and Roman Reigns vs. Goldust and Cody Rhodes

Royal Rumble 2015
WWE Championship Triple Threat Match
Seth Rollins vs. Brock Lesnar vs. John Cena

Wrestlemania 31
Seth Rollins vs. Randy Orton

WWE Championship Triple Threat Match
Seth Rollins vs. Brock Lesnar vs. Roman Reigns

Money in the Bank 2015
WWE Championship Ladder Match
Seth Rollins vs. Dean Ambrose

Raw August 2015
WWE Championship Open Challenge
Seth Rollins vs. Neville

Summerslam 2015
World Title and US Title on the line
Seth Rollins vs. John Cena

Live at Madison Square Garden October 2015
WWE Championship Steel Cage Match
Seth Rollins vs. John Cena

Money in the Bank 2016
WWE Championship
Seth Rollins vs. Roman Reigns

Battleground 2016
WWE Championship Triple Threat Match
Seth Rollins vs. Dean Ambrose vs. Roman Reigns

Summerslam 2016
WWE Universal Championship
Seth Rollins vs. Finn Balor

Raw November 2016
WWE Universal Championship
Seth Rollins vs. Kevin Owens

Also Features:
The Shield Disintegrates

Slammy Award: Superstar of the Year Presentation

Related Websites:
https://www.wwedvd.co.uk/

Distributor:
Fremantle Home Entertainment