WWE: Best PPV Matches 2017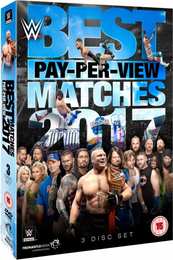 Certificate: 15
Running Time:
Retail Price: £29.59
Release Date: 08/01/2017
Content Type: TV Series
Synopsis:
2017 was another monumental year for WWE.

New Superstars became household name, dream matches were realised, and the Superstars of Raw and SmackDown Live raised the level of competition in the world of sports entertainment. Now you can witness the greatest matches of 2017 in this exclusive collection!

From the legendary first-time encounter between John Cena and Roman Reigns to the show stealing WrestleMania match pitting AJ Styles against Shane McMahon to the first-ever Women s Money in the Bank Ladder Match, 2017 left the WWE Universe wanting more!
Special Features:
WWE Championship Match
AJ Styles vs. John Cena
Royal Rumble • January 29, 2017

Randy Orton vs. Luke Harper
Elimination Chamber • February 12, 2017

Elimination Chamber Match for the WWE Championship
John Cena vs. AJ Styles vs. Bray Wyatt vs. Dean Ambrose vs. The Miz vs. Barron Corbin
Elimination Chamber • February 12, 2017

AJ Styles vs. Shane McMahon
WrestleMania XXXIII • April 2, 2017

John Cena & Nikki Bella vs. The Miz & Maryse
WrestleMania XXXIII • April 2, 2017

Universal Championship Match
Goldberg vs. Brock Lesnar
WrestleMania XXXIII • April 2, 2017

RAW Women's Championship Match
Alexa Bliss vs. Bayley
Payback • April 30, 2017

Braun Strowman vs. Roman Reigns
Payback • April 30, 2017

WWE Championship Match
Randy Orton vs. Jinder Mahal
Backlash • May 21, 2017

Fatal 5-Way Match to Determine #1 Contender for the Universal Championship
Roman Reigns vs. Finn Bálor vs. Seth Rollins vs. Bray Wyatt vs. Samoa Joe
Extreme Rules • June 4, 2017

Women's Money in the Bank Ladder Match
Charlotte Flair vs. Becky Lynch vs. Natalya vs. Carmella vs. Tamina
Money in the Bank • June 18, 2017

Universal Championship Match
Brock Lesnar vs. Samoa Joe
Great Balls of Fire • July 9, 2017

SmackDown Tag Team Championship Match
The Usos vs. The New Day
Battleground • July 23, 2017

RAW Tag Team Championship Match
Sheamus & Cesaro vs. Dean Ambrose & Seth Rollins
SummerSlam • August 20, 2017

Fatal 4-Way Match for the Universal Championship
Brock Lesnar vs. Braun Strowman vs. Roman Reigns vs. Samoa Joe
SummerSlam • August 20, 2017

Fatal 5-Way Match for the Women's Championship
Alexa Bliss vs. Sasha Banks vs. Bayley vs. Nia Jax vs. Emma
No Mercy • September 24, 2017

John Cena vs. Roman Reigns
No Mercy • September 24, 2017

Falls Count Anywhere Hell in a Cell Match
Kevin Owens vs. Shane McMahon
Hell in a Cell • October 8, 2017

"The Demon" Finn Bálor vs. AJ Styles
TLC • October 22, 2017

Related Websites:
https://www.wwedvd.co.uk/best-matches-2017-order-p-12507.html?osCsid=313bbd9b08a00d3b91191c8ae4799268

Distributor:
Fremantle Home Entertainment