BEST MAIN EVENTS OF THE DECADE 2010-2020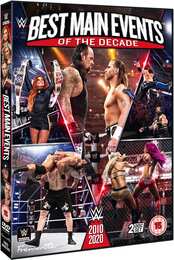 Certificate: 15
Running Time:
Retail Price: £14.99
Release Date: 10/08/2020
Content Type: TV Series
Synopsis:
The last decade in WWE was filled with some of the most breathtaking, epic main events in history.

Shawn Michaels and The Undertaker battled in the emotional Streak vs. Career match. The Rock and John Cena clashed in a battle of generations that we never thought we would see. Brock Lesnar and Roman Reigns faced off in the main event of WrestleMania 31, but neither man left with the championship!

Charlotte Flair and Sasha Banks made history in first ever women's Hell in a Cell match. And history was made again when women main evented WrestleMania for the first time, as Ronda Rousey, Charlotte Flair, and Becky Lynch battled to take home all the gold.

Plus many more epic main events- featuring Triple H, Seth Rollins, AJ Styles, Braun Strowman, Drew McIntyre, and more.
Special Features:
THE BEST MAIN EVENTS OF THE DECADE

WrestleMania XXVI - 28th March 2010
Streak vs. Career
Undertaker vs. Shawn Michaels

Money in the Bank - 17th July 2011
WWE Championship Match
John Cena vs. CM Punk

SummerSlam - 19th August 2012
No Disqualification Match
Triple H vs. Brock Lesnar

WrestleMania 29 - 7th April 2013
WWE Championship Match
The Rock vs. John Cena

Payback - 1st June 2014
No Disqualification Elimination Match
The Shield vs. Evolution

WrestleMania 31- 29th March 2015
WWE Championship Match
Brock Lesnar vs. Roman Reigns

Extreme Rules - 22nd May 2016
Extreme Rules Match for the WWE World Heavyweight Championship - Roman Reigns vs. AJ Styles

Hell in a Cell • October 30, 2016
Hell in a Cell Match for the Women's Championship
Sasha Banks vs. Charlotte

SummerSlam - 20th August 20 2017
Fatal 4-Way Match for the Universal Championship
Brock Lesnar vs. Braun Strowman vs. Samoa Joe vs. Roman Reigns

Survivor Series - 18th November 2018
Champion vs. Champion
Brock Lesnar vs. Daniel Bryan

WrestleMania 35 - 7th April 2019
Triple Threat Winner-Take-All Match
Ronda Rousey vs. Charlotte Flair vs. Becky Lynch

WrestleMania 36 - 5th April 2020
WWE Championship Match
Brock Lesnar vs. Drew McIntyre

Related Websites:
https://www.wwedvd.co.uk/best-main-events-decade-2010-2020-order-p-12761.html?osCsid=srremi537ig2nnsqktfrmjqtf0

Distributor:
Fremantle Home Entertainment