WWE: John Cena - Hustle, Loyalty, Respect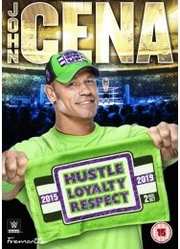 Certificate: 15
Running Time:
Retail Price: £14.99
Release Date: 27/05/2019
Content Type: TV Series
Synopsis:
This May you can see him, as the 16 time WWE Champion returns to WWE Home Video with a brand new set of his greatest matches of the New era!

Relive modern classic bouts with the likes of elite Superstars Stardust, Roman Reigns, Shinsuke Nakamura, Kevin Owens, Finn Bálor and more!

Featuring 15 Matches. The Champ is still HERE!
Special Features:
Matches:
WrestleMania 31 – March 29, 2015
United States Championship Match
Rusev vs. John Cena

Raw – April 6, 2015
United States Championship Match
John Cena vs. Stardust

Raw – May 4, 2015
United States Championship Match
John Cena vs. Sami Zayn

Payback – May 17, 2015
United States Championship "I Quit" Match
John Cena vs. Rusev

Battleground – July 19, 2015
United States Championship Match
John Cena vs. Kevin Owens

Raw – July 27, 2015
United States Championship Match
John Cena vs. Seth Rollins

Raw – October 12, 2015
United States Championship Match
John Cena vs. Dolph Ziggler

Royal Rumble – January 29, 2017
WWE Championship Match
AJ Styles vs. John Cena

Smackdown – August 1, 2017
#1 Contender's Match
John Cena vs. Shinsuke Nakamura

No Mercy – September 24, 2017
John Cena vs. Roman Reigns

Raw – December 25, 2017
John Cena vs. Elias

Raw – January 29, 2018
Elimination Chamber Qualifying Match
John Cena vs. Finn Balor

Raw – March 26, 2018
No Disqualification Match
John Cena vs. Kane

Greatest Royal Rumble – April 27, 2018
John Cena vs. Triple H

Raw – January 14, 2019
Fatal 4-Way Match Winner Faces Universal Champion
John Cena vs. Finn Balor vs. Drew McIntyre vs. Baron Corbin

Related Websites:
https://www.wwedvd.co.uk/john-cena-hustle-loyalty-respect-p-12671.html?osCsid=2568fb180433688fa0f758e6f9f9a253

Distributor:
Fremantle Home Entertainment