WWE Best of 2000s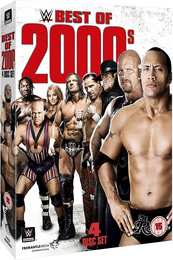 Certificate: 15
Running Time:
Retail Price: £19.99
Release Date: 24/04/2017
Content Type: TV Series
Synopsis:
The 2000s was an exciting time for WWE. The Attitude Era was reaching its conclusion, new Superstars were beginning to make their presence known, and for the first time in history, both Raw and SmackDown had their own unique rosters.

Now you can relive this period of sports entertainment with WWE's Best of the 2000s.

Featuring some of the most well known Superstars of all time such as , The Rock, Stone Cold Steve Austin, John Cena, Triple H, Batista, Chris Jericho, Shawn Michaels, Undertaker, Brock Lesnar and more!
Special Features:
19 Matches:

Royal Rumble 2000
WWE Championship
Cactus Jack vs. Triple H

TLC Summerslam 2000
WWE Tag Team Championship
Edge and Christian vs. the Hardy Boyz vs the Dudleys Boyz

No Way Out 2001
Three Stages of Hell
Stone Cold vs. Triple H

Wrestlemania 17
WWE Championship
The Rock vs. Stone Cold

Summerslam 2001
WCW Championship
The Rock vs. Booker T

Wrestlemania 18
The Rock vs. Hollywood Hulk Hogan

Wrestlemania 19
Chris Jericho vs. Shawn Michaels

Smackdown 2003
WWE Championship 60 minute Iron Man Match
Brock Lesnar vs. Kurt Angle

Backlash 2004
No Holds Barred Falls County Anywhere
Intercontinental Championship
Randy Orton vs. Mick Foley

Raw 2004
Women's Championship
Trish Stratus vs. Lita

Wrestlemania 21
Kurt Angle vs. Shawn Michaels

Vengeance 2005
Hell in a Cell for World Heavyweight Championship
Triple H vs. Batista

No Way Out 2006
World Heavyweight Championship
Kurt Angle vs. The Undertaker

Unforgiven 2006
TLC Match for WWE Championship
Edge vs. John Cena

Raw 2007
WWE Championship
John Cena vs. Shawn Michaels

Raw 2007
Edge vs. Randy Orton

No Mercy 2007
WWE Championship
Triple H vs. Jeff Hardy

Wrestlemania 25
The Undertaker vs. Shawn Michaels

The Bash 2009
Intercontinental Championship if Mysterio loses he must unmask
Rey Mysterio vs. Chris Jericho

Related Websites:
https://www.wwedvd.co.uk/best-2000s-p-12349.html?osCsid=07fe18a0746b99896fc1ca9adc05d3f4

Distributor:
Fremantle Home Entertainment