WWE: Kurt Angle: The Essential Collection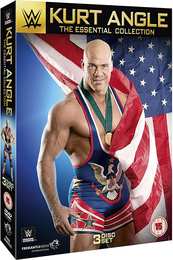 Certificate: 15
Running Time:
Retail Price: £20.99
Release Date: 31/07/2017
Content Type: TV Series
Synopsis:
WWE Hall of Famer Kurt Angle has had some of the most epic matchups in WWE history.

Now, for the first time ever, you can watch his greatest moments with Kurt Angle: The Essential Collection. Relive some of the gold medal winner s greatest rivalries with Stone Cold Steve Austin, The Rock, John Cena, Edge, Shawn Michaels, Triple H and more!

By using intensity, integrity, and intelligence, Kurt Angle solidified himself as one of the greatest Superstars of all time.

IT'S TRUE! IT'S TRUE!

Features 24 Matches from his WWE career.
Special Features:
WWE Debut Match
Kurt Angle vs. Shawn Stasiak
Survivor Series • November 14, 1999

European Championship Match
Kurt Angle vs. Val Venis
SmackDown • February 8, 2000

Intercontinental Championship Match
Kurt Angle vs. Chris Jericho
No Way Out • February 27, 2000

Finals of the King of the Ring Tournament
Kurt Angle vs. Rikishi
King of the Ring • June 25, 2000

#1 Contender Triple Threat Match
Kurt Angle vs. Triple H vs. Chris Jericho
RAW • August 7, 2000

No Disqualification Match for the WWE Championship
Kurt Angle vs. The Rock
No Mercy • October 22, 2000

WWE Championship Match
Kurt Angle vs. The Undertaker
Survivor Series • November 19, 2000

WWE Championship Match
Kurt Angle vs. Triple H
Royal Rumble • January 21, 2001

No Disqualification Match
Kurt Angle vs. Shane McMahon
King of the Ring • June 24, 2001

WWE Championship Match
Kurt Angle vs. Stone Cold Steve Austin
Unforgiven • September 23, 2001

Kurt Angle vs. Edge
Backlash • April 21, 2002

Steel Cage Match
Kurt Angle vs. Edge
SmackDown • May 30, 2002

Kurt Angle vs. Hulk Hogan
King of the Ring • June 23, 2002

Kurt Angle Open Challenge
Kurt Angle vs. John Cena
SmackDown • June 27, 2002

Triple Threat Match for the WWE Championship
Kurt Angle vs. The Rock vs. The Undertaker
Vengeance • July 21, 2002

Kurt Angle vs. Rey Mysterio
SummerSlam • August 25, 2002

WWE Championship Match
Kurt Angle vs. Brock Lesnar
SummerSlam • August 24, 2003

Kurt Angle vs. John Cena
No Mercy • October 19, 2003

Kurt Angle vs. Eddie Guerrero
SummerSlam • August 15, 2004

SmackDown in Iraq
Kurt Angle & Luther Reigns vs. Rey Mysterio & Eddie Guerrero
SmackDown • December 23, 2004

Kurt Angle vs. Shawn Michaels
WrestleMania 21 • April 3, 2005

30-Minute Iron Man Match
Kurt Angle vs. Shawn Michaels
RAW • October 3, 2005

Triple Threat Match for the WWE Championship
Kurt Angle vs. Shawn Michaels vs. John Cena
Taboo Tuesday • November 1, 2005

ECW Championship Match
Kurt Angle vs. Rob Van Dam
ECW • June 27, 2006

Related Websites:
http://https//www.wwedvd.co.uk/

Distributor:
FremantleMedia Home Entertainment