One Million Years B.C.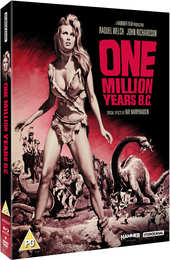 Certificate: PG
Running Time: 96 minutes
Retail Price:
Release Date: 24/10/2016
Content Type: Movie
Synopsis:
This spectacular prehistoric adventure was promoted as Hammer's 100th production and gave the world the iconic image of star Raquel Welch in a fur-lined bikini. The highlight of the movie was the stop-motion dinosaurs that were subsequently added by legendary special effects animator Ray Harryhausen. The result was Hammer's biggest commercial success, the most famous dinosaur epic until the release of Jurassic Park 26 years later.

Released in 1966, Hammer classic, ONE MILLION YEARS B.C is the spectacular prehistoric adventure of tumak, a caveman and the son of the leader of the rock tribe. When tumak (JOHN RICHARDSON - Execution), she is banished from his tribe he wanders through the brutal prehistoric lands until he stumbles upon the shell tribe loana (RAQUEL WELCH - The Three Musketeers, Legally Blond ), the daughter of the chief who takes pity on the exhausted and injured wanderer and nurses him back to health.

This 50th anniversary release of the prehistoric classic has been stunningly restored in 4K.
Special Features:
•New interview with Raquel Welch.
•New interview with Martine Beswick.
•Stills gallery.

Video Tracks:
1.85 : 1 Colour

Audio Tracks:
Uncompressed Mono - English

Directed By:
Don Chaffey

Written By:
Michael Carreras (Screenplay)

Starring:
Raquel Welch
John Richardson
Percy Herbert
Robert Brown
Martine Beswicke

Soundtrack By:
Mario Nascimbene

Director of Photography:
Wilkie Cooper

Editor:
Tom Simpson

Costume Designer:
Carl Toms

Production Designer:
Robert Jones

Visual Effects:
Ray Harryhausen
George Blackwell

Producer:
Michael Carreras

Distributor:
Studio Canal