The Raging Moon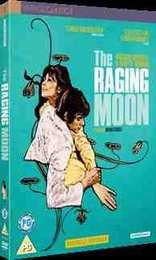 Certificate: PG
Running Time: 111 Mins
Retail Price:
Release Date: 23/11/2015
Content Type: Movie
Synopsis:
The Raging Moon (1971) on DVD and Blu-Ray. Adapted from Peter Marshall's 1964 novel by Bryan Forbes (The Stepford Wives, Whistle
Down the Wind ), the film was considered unusual in its time owing to the sexual nature of the relationship between McDowell and Newman, who play disabled people and was ahead of its time in its attempts to change attitudes to disability.

Bruce (Malcolm McDowell: If, A Clockwork Orange) is a lively young man with an irrepressible sense of fun and a sharp eye for a pretty girl. Returning home slightly the worse for wear after a wedding, Bruce suddenly collapses in the lift of the block of flats in which he lives. When Bruce wakes up in hospital, he finds that he is unable to walk and the doctors cannot diagnose his problem. When his family is unable to house him, Bruce is forced to move to a convalescence home. Here he becomes bitter about his situation and resents the intrusion of the other inmates upon his melancholy state.

After a while Bruce strikes up a friendship with fellow inmate Jill (Nanette Newman: The Stepford Wives, International Velvet) and under her influence, he begins to enjoy life again. Falling deeply in love, Bruce and Jill decide to get married against the wishes of the home's owners. Faced with the prospect of having to move out of the home and seek work, will Bruce and Jill's love survive?

Sensitively directed by Bryan Forbes, The Raging Moon is a tender love story featuring strong performances from Newman and McDowell.
Special Features:
• Interview with Nanette Newman
• Interview with Malcolm McDowall
• Stills gallery
• Trailer

Video Tracks:
1.78:1 Colour

Audio Tracks:
Mono 2.0 English

Directed By:
Bryan Forbes

Written By:
Bryan Forbes (screenplay), Peter Marshall (play)

Starring:
Malcolm McDowell
Nanette Newman
Georgia Brown |

Soundtrack By:
Stanley Myers

Music From:
John Williams

Director of Photography:
Tony Imi

Editor:
Timothy Gee

Costume Designer:
Laurel Staffell

Production Designer:
Robert Jones

Producer:
Bruce Cohn Curtis

Distributor:
StudioCanal