The Human Jungle - The Complete Series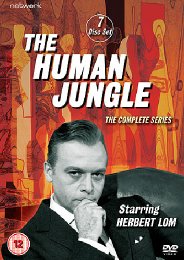 Certificate: TBC
Running Time: 1300 Mins
Retail Price: £39.82
Release Date: 22/10/2012
Content Type: TV Series
Synopsis:
Cult favourite actor Herbert Lom takes on his first British television starring role as the gifted and compassionate psychiatrist Dr. Roger Corder in this classic series from ABC Television. A widower in his mid-forties, Corder spends his life analysing others; tearing them apart to put them back together again in better shape. Primarily he is a detective, probing secrets and searching for causes – dispassionately laying the facts before those seeking his help in the 'human jungle'...

This complete-series set contains all 26 episodes of this hard-hitting and well-remembered series. John Barry's moody theme tune sets the scene for each story (based on a real-life case history) and the cast includes Joan Collins, Francesca Annis, Rita Tushingham, Alfred Burke and Annette Andre, among many others.
Special Features:
Commemorative booklet on the making of The Human Jungle by renowned archive television historian Andrew Pixley.

Related Websites:
http://www.networkdvd.net/product_info.php?products_id=1527

Video Tracks:
1.33:1 / Black and White

Audio Tracks:
Mono English

Directed By:
Roy Ward Baker (8 episodes, 1964)
Sidney Hayers (5 episodes, 1963-1964)
Vernon Sewell (5 episodes, 1963-1964)
James Hill (2 episodes, 1963)

Written By:
John Kruse (8 episodes, 1963-1964)
Bill MacIlwraith (8 episodes, 1963-1964)
Robert Stewart (4 episodes, 1963-1964)
Robert Banks Stewart (2 episodes, 1963)
Lewis Davidson (2 episodes, 1963)

Starring:
Herbert Lom
Joan Collins
Francesca Annis
Rita Tushingham
Alfred Burke
Annette Andre

Music From:
John Barry