Ray Burdis' gangster movie The Wee Man comes to DVD and Blu-ray in July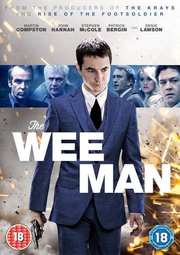 Metrodome Distribution
have announced the release of
The Wee Man
for both DVD and Blu-ray this coming 8th July. Written and directed by Ray Burdis, this stars Martin Compston, John Hannah, Patrick Bergin, Denis Lawson, Laura McMonagle, Clare Grogan, Stephen McCole, Rita Tushingham and Daniel Kerr.
Extras will include interviews with the cast, whilst the recommended retail price will be £17.99 for the SD version and £19.99 for the high definition release.
Note that the marketing blurb describes this as
"the film they tried to ban"
but quite who they are, and how they tried to ban is anybodies guess. The best we could relate this far fetched claim to, is Glasgow authorities preventing the director from filming there forcing him to relocate to London for the shoots.
Synopsis and trailer follow...
1970's Blackhill, Glasgow: 11-year-old Paul Ferris has learned quickly that life on the street is tough. Everyone knows their place. Poverty breeds corruption, crime, violence and bullying. Growing up immersed in a culture of crime, Ferris finally snaps when tormented one too many times by a vicious gang of neighbourhood bullies.
In the frustrated knowledge that the law enforcement and police do nothing to help, he decides to take on his tormentors alone and systematically wreak vengeance on them. From this point forward he attracts a street reputation and Ferris is sought out by the 'Godfather' of the Glaswegian gangster community, Arthur Thompson Snr.
Again ignoring his father's advice, he starts to work for the gangland boss, rising through the ranks until a chain of events explodes the world of crime and corruption into an all out gang war.