Two Evil Eyes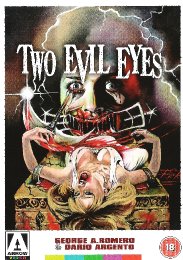 Certificate: 18
Running Time: 120
Retail Price: £15.99
Release Date: 10/05/2010
Content Type: Movie
Synopsis:
Two Evil Eyes (aka Due Occhi Diobolici) brings together two of the horror genre's greatest directors, George A. Romero (Night Of The Living Dead, Dawn Of The Dead, Day Of The Dead) and Dario Argento (Suspiria, Inferno, Tenebre, Sleepless), to remake two Edgar Allan Poe tales previously brought to the big screen by B-movie maestro Roger Corman in his 1962 film, 'Tales Of Terror'.

Directed by Romero, The Facts In The Case Of M. Valdemar tells the story of a scheming, cheating wife (Adrienne Barbeau) who convinces her psychiatrist lover (Ramy Zada) to hypnotise her dying husband (Bingo O'Malley) in order to get him to sign his fortune over to her. When the husband dies while still under hypnosis, he finds himself caught in a limbo between the worlds of the living and the dead, and hungry for revenge.

In The Black Cat, directed by Argento, Harvey Keitel plays Roderick Usher, a feline-hating, Weegee-like forensic photographer who, naturally, specialises in shooting pictures of death and murder scenes. When his wife, Annabel (Madeleine Potter) brings home a stray cat, Usher wastes no time in disposing of the animal. Unfortunately, the cat refuses to stay dead, prompting Usher's terrifying, murderous descent into madness.
Special Features:
Trailer

Video Tracks:
Anamorphic Widescreen 1.85:1

Audio Tracks:
Dolby Digital 5.1 Surround English
Dolby Digital 2.0 Stereo English
Dolby Digital 2.0 Stereo Italian

Subtitle Tracks:
English

Directed By:
George A. Romero
Dario Argento

Written By:
Edgar Allan Poe
George A. Romero
Dario Argento
Franco Ferrini

Starring:
Adrienne Barbeau, Tom Atkins, Bingo O'Malley, E.G.Marshall, Harvey Keitel, Sally Kirkland, Martin Balsam, Julie Benz

Soundtrack By:
Pino Donaggio

Director of Photography:
Peter Reniers

Editor:
Pasquale Buba

Costume Designer:
Barbara Anderson

Production Designer:
Cletus Anderson

Producer:
Achille Manzotti

Executive Producer:
Claudio Argento
Dario Argento

Distributor:
Arrow Video