Superjail!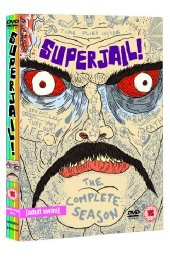 Certificate: 15
Running Time:
Retail Price: £15.99
Release Date: 12/04/2010
Content Type: Movie
Synopsis:
Housed on a remote island, in a volcano within a volcano - the location of animated-horror comedy, SUPERJAIL! is part madhouse, part ultra-violent penitentiary. Expect gratuitous disembowelment, psychedelic sadism, and robot-related carnage. Observe from a safe distance only. Wash eyes out thoroughly after viewing.
Special Features:
Original Pilot
Animatics for the Pilot and episodes 1, 9 and 10
Music video.
Trailers.

Related Websites:
http://www.revolvergroup.com/uk/

Starring:
David Wain, Teddy Cohn, Richard Mathar, Christopher McCulloch & Christy Karacas

Distributor:
Revolver Entertainment