Review for UFC 105: Couture vs. Vera
Step forward British MMA fans, because this DVD is for you. UFC 105 was the first time we saw the real evolution of British MMA, having gone from one or two UFC regulars this time we saw eight out of the ten fights featuring British fighters (It should have been nine but for unknown reasons the Andre Winner vs. Roli Delgado bout was criminally not featured on the DVD.) 

However the main event in Manchester, England featured none other than Captain America, Randy Couture. Far from letting any patriotism get in the way, any bout featuring 'The Natural' is a bout worth watching. Couture is an all round UFC legend and at 46 years of age, it is an absolute privilege to see him fight.

Brandon Vera could be an excellent opponent for him in that he is young, hungry and an excellent striker, with wrestling skills to stop Couture from dominating him.

The co-main event is also another really entertaining bout. Mike Swick was on the verge of title contention before an injury forced him out a of scheduled bout with Martin Kampmann. Returning, he now finds himself matched-up with British trash talker Dan Hardy, who not only has the image and mouth, but also the skills to be a main eventer.

A win here for Hardy will see him nudge his way into title contention, and wouldn't the MEN Arena explode if he managed to do that?

Talking of ovations, you are guaranteed that when this man enters the octagon in an English event that the crowd will always go wild. Michael Bisping returns from a humbling loss to Dan Henderson, but the fan's enthusiasm hasn't waned. Manchester will be cheering their home-town hero when he faces veteran Denis Kang in what could be a tricky bout.

 With Ross Pearson, James Wilks and UFC regulars Paul Kelly and Paul Taylor, plus exciting prospects Nick Osipczak, Terry Etim and John Hathaway on the card this is one of the most exciting MMA events in Britain of all time.

Video

Presented in 4:2 PAL, this is another picture perfect UFC event. Exceptionally clear and well shot, full marks once again to the UFC.

Audio

Audio comes courtesy of Dolby Digital 2.0 and as ever is very clear. Not a word, whatever the accent, missed.

Extras

Hugely disappointing, we only get the countdown show and the behind scenes show. The first on which is pretty standard stuff, and not great viewing if you have just watched the actual pay-per-view. But it ain't bad.

The behind the scenes show is, as always, very good. But you can't help thinking that with a Brit-heavy pay-per-view, we don;t get to see behind the scenes of a British fighter, which is a shame. But being able to see behind the scenes of Couture and the very likeable Vera helps make up for this.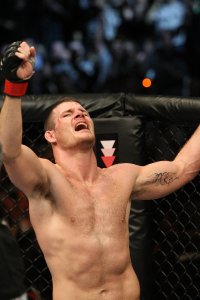 Conclusion
If your British and you are a fight fan, then there is no excuse for not owning this DVD. Not just does this do so much for British MMA, but the fights are all very good. The main event is entertaining, although Couture's fighting against the fence style doesn't always allow Vera to show off his skills.
But I don't think there's a fight on this card that is not entertaining. Of the non-Brit fighters on it, you don't often see the likes of Swick, Matt Brown and Aaron Riley in bad fights, and you certainly don't here.
Also, of the ten fights on this card, only three go to decision, and one of those is very controversial. So with an excellent mix of KO's, TKO's, submissions and decisions, the card more than lives up to it's billing.
The only let down here is the lack of extras, the normal repetitive extras are reduced to only two, with the weigh-in show scrapped. This is disap disappointing ointing because when you buy the DVD, you expect a little more than what you get here, especially on two discs.
All in all though, this is an excellent pay-per-view. Well that is, unless your American.