Casshern: Special Edition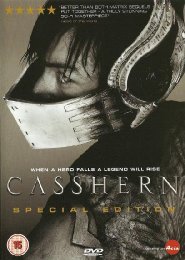 When a hero falls, a legend will rise.
Certificate: 15
Running Time: 142 mins
Retail Price: £19.99
Release Date: 2005
Content Type: Movie
Synopsis:
The debut feature from acclaimed fashion photographer and music video director Kazuaki Kiriya, 'Casshern' is a visually stunning science fiction epic based on a popular 35 episode anime series from 1973 entitled 'Casshan: Robot Hunter'.

It is late in the 21st century. After 50 years of devastating war between Europa and the Eastern Federation, the latter has emerged victorious and the new federation of Eurasia is formed. There can be no glorious peace however, as the planet has been ravaged by chemical, biological and even nuclear weapons and the entire human race is dispirited and exhausted by half a century of war.

The only hope for long term survival lies with geneticist Dr. Azuma and his breakthrough 'neo-cell' treatment that can rejuvenate the body and could regenerate mankind. But when his experiments go wrong, a race of mutant androids is released and only Azuma's dead son, reincarnated as the legendary hero Casshern, has the power to lead the war against the super robots...
Special Features:
Deleted scenes with subtitled director's commentary
Cast and crew interviews (subtitled)
Extra footage with director's audio commentary (subtitled, 12 mins)
Trailers

Video Tracks:
2.35:1 anamorphic widescreen

Audio Tracks:
Dolby Digital 5.1 Surround Japanese

Subtitle Tracks:
English

Directed By:
Kazuaki Kiriya

Written By:
Kazuaki Kiriya
Dai Sato
Shotaro Suga
Tatsuo Yoshida

Starring:
Yusuke Iseya
Kumiko Asô
Akira Terao
Kanako Higuchi
Fumiyo Kohinata
Hiroyuki Miyasako
Mayumi Sada
Jun Kaname
Hidetoshi Nishijima
Mitsuhiro Oikawa

Music From:
Shirô Sagisu

Director of Photography:
Kazuaki Kiriya

Editor:
Kazuaki Kiriya

Costume Designer:
Michiko Kitamura

Production Designer:
Yuji Hayashida

Producer:
Hideji Miyajima
Toshiharu Ozawa
Toshiaki Wakabayashi

Distributor:
Momentum Asia