D. Gray-Man: Series 1 Part 1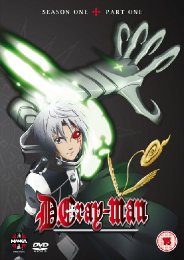 His gift is death
Certificate: 12
Running Time: 302 mins
Retail Price: £22.99
Release Date: 2010
Content Type: TV Series
Synopsis:
Set in a fictional 19th century England, the plot concerns a secret order of Exorcists embroiled in an ongoing struggle to save the Earth from an ancient being and his army of demonic creatures set on destroying mankind.

Meet Allen Walker, a 15-year-old boy and a born Exorcist who roams the Earth in search of Innocence, a mysterious substance used to create weapons and tools capable of obliterating demons known as Akuma. It is believed that in ancient times, 109 fragments of Innocence were washed to unknown parts of the world by The Great Flood.

Allen's primary anti-Akuma weapon is a cross that is embossed on his red, disfigured left hand, which contains Innocence. But not only does Allen have the ability to destroy Akuma, he also sees them hiding inside a person's soul. Together with a group of fellow exorcists fighting under the command of the Black Order, he joins the battle against the Millennium Earl, an ancient being who intends to 'cleanse' the world by destroying all life on it.

Allen's first perilous mission takes him to southern Italy, where an Innocence has been located. Along with fellow exorcist, Kanda, and Tom, a member of a support group for exorcists called 'finders', Allen must vanquish the Akuma that covets the Innocence.
Special Features:
Audio Commentary (episode 2)
Textless Credits

Video Tracks:
1.78:1 anamorphic widescreen

Audio Tracks:
Dolby Digital 5.1 Surround English
Dolby Digital 2.0 Stereo Japanese

Subtitle Tracks:
English

Directed By:
Osamu Nabeshima

Written By:
Reiko Yoshida
Tatsuhiko Urahata
Katsura Hoshino

Starring:
Sanae Kobayashi
Ai Shimizu
Hiroki Touchi
Junpei Takiguchi
Katsuyuki Konishi
Kenichi Suzumura
Megumi Toyoguchi
Mitsuo Iwata
Ryotaro Okiayu
Shizuka Itou
Takahiro Sakurai
Todd Haberkorn
Brad Hawkins
Cherami Leigh
Chris Patton
Christopher R. Sabat
Chuck Huber
Colleen Clinkenbeard
Eric Vale
J. Michael Tatum
Jason Liebrecht
Luci Christian
Travis Willingham

Music From:
Kaoru Wada

Director of Photography:
Eiji Tsuchida

Editor:
Tomoki Nagasaka

Producer:
Fukashi AZUMA
Mitsuyo Chitai
Yokai Tazuki

Distributor:
Manga Entertainment