Drunken Master (UK)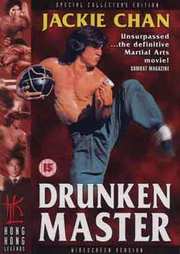 Unsurpassed... the definitive martial arts movie!
Certificate: 15
Running Time: 107 mins
Retail Price: £19.99
Release Date:
Content Type: Movie
Synopsis:
A pupil is sent to train under a drunken master. He escapes his master, only to come face to face with an assassin. Stunning, ground-breaking martial-arts, from the world`s most famous action-star.

On the year of its original release "Drunken Master" sent Jackie Chan`s rising star soaring into orbit and gave martial arts cinema one of its most accomplished and best-loved action adventures.

With a brilliant, tongue-in-cheek portrayal of indestructable folk-hero Wong Fei Hung, normally played with single-minded determination by Jet Li in the "Once Upon a Time in China" series, Jackie Chan shines as the young fighter with a talent for trouble and the potential to become a legend.

Under the guidance of Sam Seed (Yuen Siu Tien), Fei Hung endures some of the most tortuous training ever devised in a bid to master the devastating art of Drunken Boxing. His climatic battle with ace kick-fighter Hwang Jang Lee, which highlights the forms of the Eight Drunken Mortals, is a breath-taking showcase and a glowing tribute to the awesome physical talents of both performers.

Now re-mastered for DVD, "Drunken Master" is a must for any serious collector of martial arts cinema. Known to be one of Jackie`s personal favourites, the star often recalls performing take after take to perfect the incredible physical manoeuvres required for the role. The result is one of the most innovative, fun-filled, action-packed martial-arts adventures ever to grace the silver screen. You`d need to be drunk to miss it!
Special Features:
Interactive Menus
Scene Access
Photo Gallery
Jackie Chan Biography & Filmography
Theatrical Trailer
UK Music Promo
Rare Deleted Scene
Interview with producer Ng See Yuen
Yuen Woo Ping Biography
Hwang Jang Lee Biography and Kicking Showcase

Video Tracks:
Widescreen Anamorphic 1.78:1

Audio Tracks:
Dolby Digital Stereo 2.0 English
Dolby Digital Stereo 2.0 Mandarin

Subtitle Tracks:
English

Directed By:
Woo-ping Yuen

Starring:
Bolo Yeung
Jang Lee Hwang
Siu Tien Yuen
Jackie Chan

Producer:
See-Yuen Ng

Distributor:
Hong Kong Legends