Cricket and Gore, What's Not To Like?
Written as a zero budget film by Stacey Edmonds and Doug Turner, this went through many different cricket related titles, including some playing on 'runs' before they settled on I Know How Many Runs You Scored Last Summer.  This immediately puts you in mind of I Know What You Did Last Summer and other post-Scream slasher films.  Turner freely admits to being a big fan of 1970s and '80s slasher movies and cites A Nightmare on Elm Street in the film; another reference point is Dressed to Kill with Edmonds and Turner paying homage to Brian De Palma's lingering shower scene (where there is also a nod to Psycho) with gratuitous nudity using Arianna Starr (Miss Nude Australia) as Stacey Edmonds' body double.  
 
As a no- to low-budget film, Edmonds and Starr do virtually everything: co-writing, co-directing, producing, editing and shooting as well as both acting in the film.  As they say in the extra material, Doug Turner came up with the premise as a cricket fan who loves horror movies.  In true slasher convention, there is a violent killer seeking redress for something that happened to him in his youth.  In this case it's an Australian ex-pat who was brutally beaten by the other members of his cricket team at school in England and, with specially sharpened stumps, a cricket box with added screws, a cricket ball with six inch nails hammered through it and, of course, a bat, he is working his way through the now adult members of the team.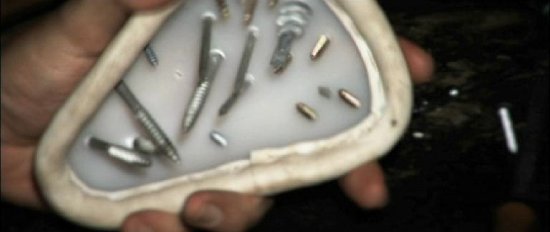 With five of them already dead (a 'five-for' as one of the cops wryly observes) - the film opens with the killer preparing his equipment and hammering a stump through one victim's head - the police in NSW realise they had better protect the other men and take them to a remote retreat which is protected with surveillance cameras.  Leading the operation is DI Kim Reynolds who immediately gets the men's backs up because she's both a Pommie and a woman. 
 
Once they get to the safe house, the men start irritating one another, ignoring instructions to stay inside and not contact the outside world and, predictably enough, the moustachioed man in cricket whites starts picking them off one by one.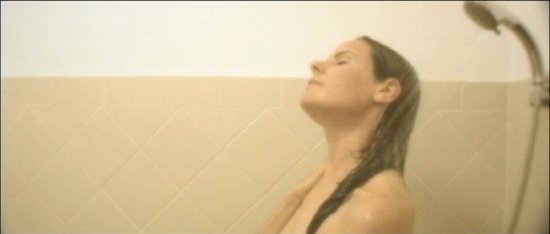 This is the sort of film where you really have to admire the ambition and skill of the two filmmakers who have made a feature film with practically no money, deferring most expenses until the film was released, and now have a good DVD of their movie out on general release.  I Know How Many Runs You Scored Last Summer is not the most accomplished slasher film you will ever see and I don't think that either Edmonds or Turner would pretend otherwise.  It is a cheap and cheerful horror movie with some gory death scenes, knowing humour and gratuitous nudity.  All the actors do a reasonably good job, Edmonds is surprisingly adept as the lead considering everything else she was doing on the other side of the camera and the film is pretty well paced and packs everything in to the reasonably brief (78 minute) running time.
 
 
 
If you want a quality film where people are bumped off in nasty ways before the satisfactory dénouement, there are loads of movies that would do just that (Friday the 13th, Halloween and Black Christmas spring to mind) but for something less serious and more irreverent, this would fit the bill.
The Disc
Extra Features
First up there is a commentary with Stacey Edmonds and Doug Turner, mediated by David Michael Brown which is a revealing and amusing chat about filming and exactly what it takes to make a film with no money. 
There are half a dozen things to choose from on the extra features menu, each looking at different parts of the filming process - they provide sufficient insight into how the film was made but not at any great length, generally running between 3 and 5 minutes. 
Bloody FX shows you how the gore scenes are done with the focus on CGI blood and how the effects were made more realistic. 
Canteen Scene Grade shows the same snippet with different levels of focus, grain and colour palettes before you see the finished article. 
Joadja Diary is a brief look at the filming location which lent itself to the setting of a horror movie - there are a couple of amusing incidents captured on film but it isn't the sort of trip around the area that I'd have liked. 
Audio Mix Diary shows you a little bit of how the sound was mixed on the computer to give the scenes the biggest impact.
Abertoir Film Festival Q&A isn't, as I expected, a question and answer session following a screening but comprises Edmonds and Turner talking to camera in a room where they talk about making a zero budget film and give tips on how to do it.  They are sitting in front of a computer on which they were currently mixing the sound and list the software you would need to edit a film and the best way to get it finished.  This is the best of the extra material and will be of interest to any aspiring filmmaker. 
Finally you get the  uncut shower scene - in the film it is broken into 3 sections - so here you get over 3 minutes of Arianna Starr rinsing herself off and then lathering up (yes, in that order!) plus the music video for White Trash, Hot Love by Hell City Glamours.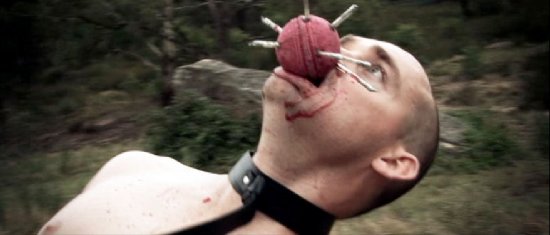 The Picture
This was shot digitally and has made the transition to DVD very well with a sharp picture and remarkably good gore effects.  There is little in the way of unintentional grain and the colour and contrast levels are consistently good. 
*The pictures contained in this review are for illustrative purposes only and do not reflect the image quality of the disc.*
The Sound
The only option is Dolby Digital 5.1 surround which is no bad thing and it is a pretty good soundtrack with clear dialogue and good use of the surround speakers for the score and atmospherics.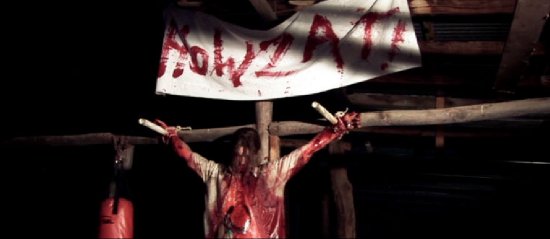 Final Thoughts
I Know How Many Runs You Scored Last Summer
isn't the finest slasher movie you will ever come across, but it is enjoyable and a testament to what committed and ambitious people can do with virtually no money.  You don't have to understand cricket to like this and I don't even know if it would help as they apparently took out much of the cricket related dialogue and one liners from the killer, preferring to keep him as a silent assassin.  It's not highbrow or particularly nerve-shredding but would probably do as a 'party' film for a group sitting around with a takeaway and some beers, particularly after a bad day during the Ashes!