I Know How Many Runs You Scored Last Summer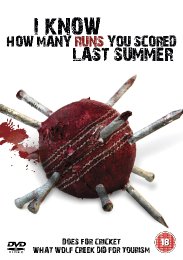 Does for cricket what Wolf Creek did for tourism
Certificate: 18
Running Time: 78
Retail Price: £12.99
Release Date: 29/06/2009
Content Type: TV Series
Synopsis:
If you thought The Ashes represented the ultimate grudge match between English and Australian cricketers, then think again. This time the game is not only personal, it's also deadly and the biggest test is to stay alive. Edmonds and Turner's hilarious and bloody movie puts an irreverent, parodic spin on slasher conventions as well as introducing a unique serial killer who won't finish his "over" until all his victims are permanently dismissed.

When a couple of Australian cricketing buddies are found murdered, the ensuing police investigation reveals the unlikely culprit to be a "Pommie bastard psycho" serial killer out for revenge on the now-grown-up kids who bullied him following a school cricket match two decades ago. Armed with an impressive moustache and an arsenal of ingeniously customised cricket equipment - including a quiver of sharpened stumps, razor-fingered batting gloves and nail-embedded cricket balls - his goal is to batter and bowl out his old school team once and for all.

As the search for the killer continues, the detectives in charge of the case move the surviving teammates to a safe-house on a remote farm for their protection. But, unknown to them, the cricket-crazed tourist is already several runs ahead in the game.
Special Features:
- Audio Commentary
- Bloody FX
- Making Runs
- Shower Scene Uncut
- Canteen Scene Grade
- Joadja Diary
- Audio Mix Diary
- Abertoir Film Festival Q&A
- White Trash, Hot Love - Hell City Glamours Music Video

Video Tracks:
Anamorphic Widescreen 2.35:1

Audio Tracks:
Dolby Digital 5.1 Surround English

Directed By:
Stacey Edmonds
Doug Turner

Written By:
Doug Turner

Starring:
Jai Koutrae
Stacey Edmonds
Az Jackson
David Gambin
Ben Paul Owens
Aaron Scully
Alex Sideratos
James Winter
Otto Heutling
Arianna Starr

Soundtrack By:
Dallas Johnson

Director of Photography:
Doug Turner

Editor:
Stacey Edmonds
Doug Turner

Costume Designer:
Janine Thompson

Producer:
Stacey Edmonds

Distributor:
Anchor Bay Entertainment