LYNCH (one)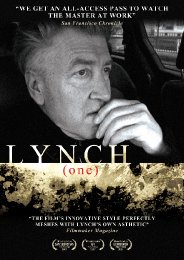 Certificate: E
Running Time: 85
Retail Price: £15.99
Release Date: 22/06/2009
Content Type: Movie
Synopsis:
Over the course of two years, beginning as director David Lynch started working on a project that would eventually become "Inland Empire", a small documentary crew was allowed to follow Lynch during his day-to-day business on location and at home. The result was LYNCH (ONE), an intimate portrait of the director's creative process, coming to DVD on 22nd June 2009.
LYNCH (ONE) provides a fascinating insight into the creative mind of one of cinema's most original and interesting filmmakers.

The journey starts at the end of 2004 as David visits Lodz, Poland to commence work on "Inland Empire" and to take a series of photographs of abandoned factories before returning home to Los Angeles for seven months' work on the film. Further visits to Lodz, to New York and his eventual return to Los Angeles are also documented as he candidly discusses subjects such as his abandonment of celluloid in favour of digital media and his interest in transcendental meditation, as he prepares "weather reports" for his website and works on his paintings. The film witnesses, at first hand, his discovery of the beauty in ideas and leads to a journey through the abstract which ultimately unveils David Lynch's unique cinematic vision.

Given Lynch's usual reluctance to discuss the subjects and themes of his films, LYNCH (ONE) is, perhaps, the closest fans will ever get to a "making of" documentary, in this instance, the making of "Inland Empire".

Compiled from over two years of footage, LYNCH (ONE) provides the only current perspective on one of cinema's greatest directors, bringing to life his creative process and joy for living life to its fullest potential. As such, LYNCH (ONE) is essential viewing for David Lynch fans and general cineastes alike.
Special Features:
- LODZ [photo montage]
- PILOT [11 minute trailer 2004]
- TEASER [LYNCH (one) trailer]
- BLUE GREEN [vignette]
- WORK [david does more work]
- "WHAT'S MYSPACE?" [vignette]
- FLOOR SANDER [story]
- LYNCH2 TEASER [trailer]
- LYNCHthree TEASER [trailer].

Related Websites:
http://www.davidlynch.com

Video Tracks:
Fullframe 1.33:1

Audio Tracks:
Dolby Digital Stereo English

Directed By:
blackANDwhite

Starring:
David Lynch
Weronica Rosati
Philip Patela
Laura Dern

Director of Photography:
Morten Soberg
Jason S

Editor:
blackANDwhite

Producer:
Jon Nguyen
Jason S
Brynn McQuade
Soren Larson

Executive Producer:
Slin Almquist
Rips Penderis
Matt Semi

Distributor:
Scanbox Entertainment