Ironside - Season One (8 Discs)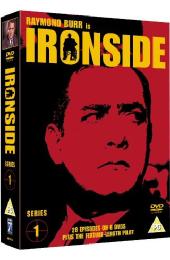 Certificate: PG
Running Time: 25 Hours
Retail Price: 49.99
Release Date: 25/08/2008
Content Type: TV Series
Synopsis:
Confined to a wheelchair by a sniper's bullet, former Chief of Detectives Robert T. Ironside (Emmy-
winner Raymond Burr) consults for the San Francisco police department, solving major crimes with a crack team of investigators, including Detective Sergeant Ed Brown, policewoman Eve Whitfield and ex-con Mark Sanger.

Set during the turbulent 1960's, Emmy-winning Ironside confronted the hottest issues of its time: civil rights, drugs, hippies, rock 'n roll and topped the ratings from '67 to '75 giving television its first disabled hero. The ground-breaking inaugural series boasts original music by Quincy Jones and an array of guest stars including Jack Lord (Hawaii Five-O) Bruce Lee, Harrison Ford, Susan Saint James and David Carradine (Kill Bill).
Special Features:
None