Dishonour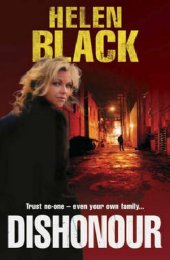 Authors:
Helen Black

Retail Price (Hardback): Retail Price (Softback):
£6.99
Retail Price (Ebook): ISBN:
1847560725
First Published:
2009
Description:
Who can protect you when your family are the ones you're running from? The gripping new thriller from the acclaimed author of DAMAGED GOODS. Heavily pregnant and in the midst of setting up her own practice, childcare lawyer Lilly Valentine's life is demanding enough. But when she is asked for help by a young man, Anwar Khan, after his sister commits suicide, she can't refuse. Treated with extreme hostility by the girl's family, Lilly is about to jettison the case. But when the police turn up and arrest the dead girl's younger brother for her murder, she's knows she's already in too deep. Together with her new assistant Taslima, Lilly gets caught up in the sinister world of a self-styled vigilante group vowing to protect the 'honour' of the women in their community - and punishing those who 'stray.' When another young Muslim girl disappears, Lilly knows it's only a matter of time before the group take the law into their own hands. But with so much in her own life at stake, has Lilly finally taken on more than she can handle?
Publishers:
Avon