The 100 Greatest Metal Guitarists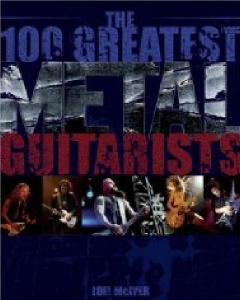 There's been a myriad of books and TV programmes about the best guitarist in the world and you always get the usual suspects such as Clapton, Satriani, Dave Gilmour, etc on the top of the pile. Well, here's a book with a difference. The instrument is still the axe, but the focus is on the metal genre, making this a rather more specialised and more interesting read than the usual fodder.
Written by Joel McIver, who has contributed to both Total Guitar and Total Bass, this book is clearly the result of someone who knows his stuff. I'm not a metal fan by any means, just not enough synth for me (sorry), but I actually enjoyed reading this and learning a bit about a whole host of players that I'd never heard of and McIver's reasoning as to why they deserved their place in his top 100. Can't say I agree or disagree with him, but he puts a persuasive argument across as he spans death metal, thrash metal, black metal, metalcore , power metal and heavy metal to find his ultimate axeman.
When he does, it's a bit of a surprise. Even with my modest ignorance of the metal scene, I'd have been hard pushed to come up with this guitarist as the best axeman but at least I'd heard of him, so that was some consolation. And conversely, that's the best thing about this book, especially for anyone who roots out new music regardless of which genre they listen to; this book wanders all over the place, searching through nooks and crannies for the right people rather than staying on the safe and well-trod path. I recognised at least probably about a quarter of the bands listed in this book but only a handful of names. That's understandable for me as I'm a synth man through and through, but I reckon that any true metal fan will love this book and maybe also provide some with an excuse to search out and listen to a number of the bands listed within these pages.
This is a big glossy thing with moody black and white photos as you might expect, but it is well-researched and well-presented by someone with a real feel for his genre.
Recommended.