Dragons Forever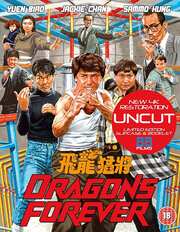 Jackie Chan is hired as a sharp lawyer when chemicals start destroying the local environment
Certificate: 18
Running Time: 98 mins
Retail Price: £24.99
Release Date: 2020
Content Type: Movie
Synopsis:
The Three Brothers are back! After Project A and Wheels on Meals, the most popular action stars in Hong Kong – that's Sammo Hung, Yuen Biao and the superstar Jackie Chan himself – join forces again for another uproarious adventure.

This time, the heroic trio are facing down a crooked industrialist and an organised crime syndicate bring drugs into Hong Kong. Can they stop it? Well, obviously – the real question is how crazy things get while they do it!

This was the last time the classic team performed together and it's one of their best outings, filled with fights, stunts and – yup, you guessed it – more fights. 88 Films are proud to present the UK blu-ray premiere of this action masterpiece remastered and restored in 4K.
Special Features:
• Limited Edition Gloss O-Card slipcase [First Print Run Only]
• Limited Edition Booklet Notes by Scott Harrison also featuring rare stills and lobby cards from the film [First Print Run Only]

SPECIAL FEATURES (DISC 1)

• Brand New 4K Remaster of the Original Hong Kong Version [94 mins]
• [New] Audio Commentary by Hong Kong cinema experts Mike Leeder and Arne Venema
• [New] Benny Forever: Interview with Benny "The Jet" Urquidez
• [New] Discussing Dragons Forever: Interview with David Desser
• [New] Hong Kong Cinema Forever: Interview with Mike Leeder
• [New] Working with the Dragons: Interview with Jude Poyer
• [New] The Legacy of Dragons Forever Featurette with todays actors & martial artists including Troy Sandford, Chris Jones, Ross Boyask, Maria Tran, Mike Leeder, Jean-Paul Ly, Mark Strange, Mike Moeller, George Clarke, Jude Poyer & Steve Lawson
• Double Jeopardy: An Interview with Brad Allen
• Beyond Gravity: An Interview with Joe Eigo
• Kick Fighter: An interview with Andy Cheng
• Thai Breaker: An Interview with Billy Chow
• Deleted Scenes
• End Credits from the Japanese Version
• Behind the Scenes Footage
• English Trailer
• Hong Kong Trailer
• Reversible Sleeve
• New artwork from R.P. "Kung Fu Bob" O'Brien

SPECIAL FEATURES (DISC 2)

• Full CYCLONE Z Cut of the Film [98 mins] [Produced exclusively for the Japanese market, this Cantonese-language version includes two extra scenes and an ending with outtakes].
• Recreated Export Version of the film [94 mins] [Commissioned by Golden Harvest for international audiences outside Asia]

Video Tracks:
1.85:1 widescreen 1080p

Audio Tracks:
DTS-HD MA 5.1 Surround Cantonese
DTS-HD MA 2.0 Mono English
DTS-HD MA 2.0 Mono Cantonese
DTS 5.1 Surround English

Subtitle Tracks:
English

Directed By:
Corey Yuen
Sammo Hung Kam-Bo

Written By:
Chuek-Hon Szeto
Yiu Ming Leung
Gordon Chan

Starring:
Wah Yuen
Pauline Yeung
Biao Yuen
Sammo Hung Kam-Bo
Jackie Chan

Music From:
Chin Yung Shing

Editor:
Peter Cheung
Joseph Chiang

Production Designer:
Oliver Wong

Producer:
Leonard Ho

Executive Producer:
Raymond Chow

Distributor:
88 Films