Jackie Chan's PROJECT A & PROJECT A PART II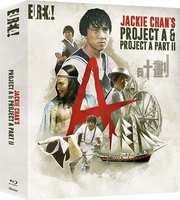 A rip-roaring adventure on the old China coast...
Certificate: 15
Running Time: 212 mins
Retail Price: £29.99
Release Date: 2018
Content Type: Movie
Synopsis:
A pair of incredible action-adventure extravaganza's from the legendary Jackie Chan, Project A and Project A Part II make their long overdue debut on Blu-ray in the UK from brand new 2K restorations. Starring three of the greatest martial-arts action stars of all time (Jackie Chan, Sammo Hung and Yuen Biao), the Project A films blended unparalleled martial artistry, death defying stunts and physical comedy in a way that has yet to be matched.

Project A Jackie plays Sergeant Dragon Ma, a turn-of-the-century coastguard, hot on the trail of a ruthless band of cut-throat pirates, intent on spreading a trail of blood and mayhem across the South China Seas. Project A features some of the most dangerous stunts of Jackie s career, including homages to Buster Keaton s Steamboat Bill, Jr. and Harold Lloyd s Safety Last!.

Project A Part II After the events of the first film, Dragon Ma is given a new assignment, to clean up crime and corruption in the roughest part of town. The pressure was on to top the first film in terms of sheer spectacle, but Project A Part II rises to the challenge and delivers one of the most stunt-packed, rip-roaring action-adventures of all time.

Presented from brand new 2K restorations and fully uncut, Eureka Classics is proud to present Jackie Chan s Project A and Project A Part II for the first time on Blu-ray in the UK in a special Limited Edition Box Set (4000 copies) packed with extra content.
Special Features:
Special Limited Edition Box Set of 4000 copies
The export cut of Project A Part II, featuring a unique English dub track not heard on any other version of the film [presented in SD]
New video interviews with Asian cinema expert Tony Rayns
Archival interview with Jackie Chan [30 mins]
Archival Introduction to Project A by star Jackie Chan
Interview with actor Lee Hoi San [22 mins]
Interview with actor Yuen Biao [18 mins]
Interview with actor Dick Wei [14 mins]
Interview with actor Michael Chan Wai-Man [20 mins]
Interview with composer Michael Lai [17 mins]
Interview with stuntman Anthony Carpio [29 mins]
Interview with stuntman Mars [15 mins]
Someone Will Know Me [13 mins] - an archival featurette which includes interviews with stuntmen Mars, Chris Lee Kin-Sang and Rocky Lai
Alternate outtakes for Project A from the Japanese version of the film
Archival behind-the-scenes footage [24 mins]
Deleted Scenes
Box set exclusive Collector's booklets for each film, featuring new essays by James Oliver; rare archival material; and full credits for both films!

Video Tracks:
2.35:1 widescreen 1080p

Audio Tracks:
DTS-HD MA 5.1 Surround Cantonese
DTS-HD MA 5.1 Surround English
PCM 1.0 Mono Cantonese
PCM 1.0 Mono English (Project A only)

Subtitle Tracks:
English

Directed By:
Jackie Chan

Written By:
Jackie Chan
Edward Tang

Starring:
Jackie Chan
Sammo Hung Kam-Bo
Biao Yuen
Dick Wei
Mars

Soundtrack By:
Siu-Tin Lei

Director of Photography:
Yiu-Tsou Cheung

Editor:
Peter Cheung

Production Designer:
Yuen Wo Poon
Jim Fook Sing
Lok Tung So

Producer:
Leonard Ho
Edward Tang

Executive Producer:
Raymond Chow

Distributor:
Eureka Entertainment