Code Geass: Lelouch of the Rebellion III - Glorification - Collector's Edition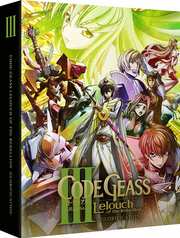 From the studio that brought you Mobile Suit Gundam and Cowboy Bebop
Certificate: 12
Running Time: 141 mins
Retail Price: £39.99
Release Date: 2020
Content Type: Movie
Synopsis:
This updated theatrical presentation of Sunrise's classic mech-infused series comes to its shocking climax in the final film of the trilogy.

With his spell of impressive successes seemingly behind him, Lelouch Lamperouge's hopes of destroying the Brittanian Empire presided over by his father are crumbling at an alarming rate. With his sister kidnapped, his former friend Suzaku ignoring his pleas for help, and his organisation The Black Knights losing their faith in him, the man behind Zero's mask is left with nowhere to turn.

With his power waning and betrayals around him rising, the only option left on Lelouch s board in this all-or-nothing game of political chess is to take on the Brittanian Empire - and his father - from the inside.

Contains the film on Blu-Ray in Japanese with English subtitles. Presented in collector's packaging.
Special Features:
Comes in a rigid case, with 8 Art Cards and a 34cm x 40cm poster.
Limited Edition Artbox to hold Films 1-3

Promos
Trailers

Video Tracks:
1.78: widescreen 1080p

Audio Tracks:
Dolby TrueHD 5.1 Surround Japanese

Subtitle Tracks:
English

Directed By:
Goro Taniguchi

Written By:
Ichiro Okouchi
Goro Taniguchi

Starring:
Jun Fukuyama
Takahiro Sakurai
Yukana
Akeno Watanabe
Ami Koshimizu
Fumiko Orikasa
Jouji Nakata
Junko Minagawa
Kaori Nazuka
Kazato Tomizawa
Kazunari Tanaka
Ken Narita
Kikuko Inoue
Masayo Kurata
Mitsuaki Madono
Noriaki Sugiyama
Norihiro Inoue
Omi Minami
Saeko Chiba
Sayaka Ohara
Tetsu Shiratori
Yuuji Takada

Music From:
Hitomi Kuroishi
Kotaro Nakagawa

Editor:
Shinji Morita

Distributor:
All the Anime