The Far Country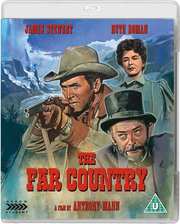 Challenging the Klondike Snow, and Greed and Sin, When Gold Was the Lure!
Certificate: U
Running Time: 97 mins
Retail Price: £24.99
Release Date: 2019
Content Type: Movie
Synopsis:
An archetypal example of its genre, The Far Country is one of five superb westerns the screen legend James Stewart (Vertigo, Bend Of The River) made with acclaimed Hollywood auteur Anthony Mann (El Cid, The Man from Laramie).

Mann s film tells of Jeff Webster (Stewart) and his sidekick Ben Tatum (Walter Brennen, My Darling Clementine), two stoic adventurers driving cattle to market from Wyoming to Canada who come to logger heads with a corrupt judge (John McIntire, Psycho) and his henchmen. Ruth Romain (Strangers on a Train) plays a sultry saloon keeper who falls for Stewart, teaming up with him to take on the errant lawman.

An epic saga set during the heady times of the Klondike Gold Rush, The Far Country captures the scenic grandeur of northern Canada s icy glaciers and snow-swept mountains in vivid Technicolor. Mann s direction expertly steers the film to an unorthodox, yet thrilling all guns-blazing finale, whilst the imposing landscape takes on a whole new splendour in High Definition.
Special Features:
Two presentations of The Far Country in both original aspect ratios of 1.85:1 and 2.00:1
Brand new 4K restoration from the original film elements by Arrow Films
Original 1.0 stereo audio
Limited edition booklet with new writing on the film by Philip Kemp and original reviews
Reversible sleeve featuring original and newly commissioned artwork by Graham Humphreys

DISC ONE
High Definition Blu-ray (1080p) presentation of the film in its original aspect ratio of 1.85:1
New audio commentary by film scholar Adrian Martin
American Frontiers: Anthony Mann at Universal, an all-new, feature-length documentary with Mann biographer Alan K. Rode, western author C. Courtney Joyner, script supervisor Michael Preece, and critics Michael Schlesinger and Rob Word
Mann of the West, a newly filmed appraisal of Far Country and the westerns of Anthony Mann by the critic Kim Newman
Image gallery
Original trailer

DISC TWO
High Definition Blu-ray (1080p) presentation of the film in the alternate original aspect ratio of 2.00:1

Video Tracks:
1.85:1 widescreen 1080p
2.00:1 widescreen 1080p

Audio Tracks:
PCM 1.0 Mono English

Subtitle Tracks:
English

Directed By:
Anthony Mann

Written By:
Borden Chase

Starring:
James Stewart
Ruth Roman
Corinne Calvet
Walter Brennan
John McIntire
Jay C. Flippen
Harry Morgan

Music From:
Henry Mancini
Hans J. Salter
Frank Skinner
Herman Stein

Director of Photography:
William H. Daniels

Editor:
Russell F. Schoengarth

Costume Designer:
Jay A. Morley Jr.

Producer:
Aaron Rosenberg

Distributor:
Arrow Video