Vampire Hunter D: Bloodlust - Blu-ray+DVD Ltd Collector's Ed.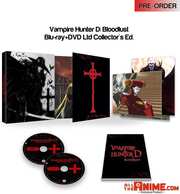 When the Sun Sets... The Hunt Begins
Certificate: 15
Running Time: 102 mins
Retail Price: £34.99
Release Date: 2018
Content Type: Movie
Synopsis:
Baron Meier Link is of a dying race, but the vampire doesn't intend to remain lonely much longer. Abducting women in the night is common for his kind, so what's one more? But Charlotte's father has plenty of money, and there's no price he won't pay to get his daughter back. That's why he hires D.

D is a Dunpeal, a breed rarer than that of the vampires - after all, he's half of one. When it comes to hunting those with fangs like his own, he's the best in the business. But that doesn't mean he's the only game in town. The Markus Brothers are on the vampire's trail as well, and they're not about to lose. It's a race, not only between the rival Hunters, but for the vampire and his bride-to-be. But it might be more than just a job to D. Is Charlotte really a captive? Or will another Dunpeal be born to this world?
Special Features:
Comes in a rigid case with digipack to hold the two discs.
Art cards
16-page booklet featuring an article written by Andrew Osmond (author of 100 Animated Feature Films.)

On-disc extras:

US Theatrical Trailer
US Television Spot
Japanese Theatrical Trailer
Japanese Television Spot
Korean Theatrical Trailer
Behind the Scenes Featurette
Storyboard to Screen
Art Gallery

Video Tracks:
1.85:1 widescreen 1080p

Audio Tracks:
DTS-HD MA 5.1 Surround English
Dolby Digital 2.0 Stereo English

Subtitle Tracks:
English

Directed By:
Yoshiaki Kawajiri

Written By:
Yoshiaki Kawajiri
Hideyuki Kikuchi

Starring:
Andrew Philpot
John Rafter Lee
Michael McShane
Pamela Segall
Wendee Lee
Alex Fernandez
Jack Fletcher
John Di Maggio
Matt McKenzie
Dwight Schultz

Music From:
Marco D'Ambrosio

Director of Photography:
Hitoshi Yamaguchi

Editor:
Harutoshi Ogata
Kashiko Kimura
Satoshi Terauchi
Yukiko Itou

Producer:
Masao Maruyama
Mataichiro Yamamoto
Takayuki Nagasawa

Distributor:
All the Anime