Review for Chaika the Coffin Princess: Season 2
Introduction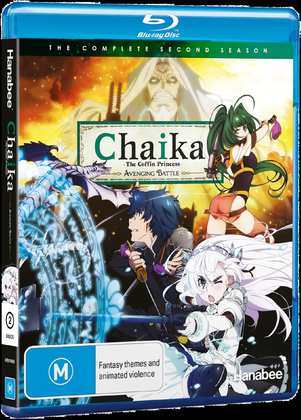 There is one major problem with the UK anime industry; it all boils down to the margins. Shows simply have to sell in the UK, where a DVD or BD print run has to be at least one thousand units, and where the fan-base for the more niche titles struggles to reach four digits. Practically every anime release is a make-or-break title for a distributor, and this isn't an industry where things like loss-leaders are really possible. Popular titles work here, shows that get traction work here, but shows that fail vanish into the æther of what could have been. I have one UK volume of Inuyasha on my shelf, similarly one volume of Initial D. We're still waiting for the rest of Hidamari Sketch, Shakugan no Shana Season 3 is still missing in action, we got season 1 of High School DxD, and most recently season 3, but season 2 is nowhere to be seen.
MVM and Anime Limited have both had partially released titles, but Manga Entertainment would be the poster child for 'if-only'. Shows like MAR and Voltron never got very far, from their Funimation days, shows like Hellsing Ultimate and Attack on Titan S2 (although the latter has now been announced by Sony) have been left hanging, the Rooster Teeth titles have dried up, and now that they've been releasing shows from Sentai, even those have begun to go walkabout. The second season of Himouto Umaru-chan has fortunately been picked up by MVM, but you'll be left wondering where stuff like Knight of Sidonia S2, the rest of Food Wars and Haikyu will be coming from. Personally, I'm still wondering when the next One Piece will show up. Their reticence to comment on these things gets people's fingers twitching over the import button, and once those buttons are pressed, potential sales are reduced, and it all becomes a self fulfilling prophecy.
It's been 2 years since Manga/Animatsu released Coffin Princess Chaika Season 1 in the UK, and while the characters were generic, the story and the writing were good enough for me to be entertained by it. Indeed I enjoyed it enough to double dip to Blu-ray. And then began the subsequent wait for Manga to announce season 2. Sentai released it in the US in September 2016, and Hanabee released it in Australia last January. The annoying thing is that whenever I do press the import button, it isn't long after that someone finally does release it in the UK, and they've already lost a sale. It's probably not good for business, but I really do wish that companies would say up front if they lose a license, or if they have no intention of completing a series. Anyway, I got tired of waiting and imported season 2 of Chaika from Australia, to see how the story ends, if it does...
Chaika Trabant is a cute girl, who when we first met her was lost in the woods, while lugging a coffin twice her size along. She's a little unconventional (not just because of the coffin), as Toru Acura learned when he ran into her while foraging for food. He and his sister Akari were saboteurs in the last war, but it was harder making ends meet during peacetime. Toru rescued Chaika from a rampaging unicorn, although not without Chaika's help (she's actually a wizard, and the coffin contains her Gandr, a magical rifle). Chaika's on a mission to find and reclaim the scattered body-parts of her late father, so that she can mourn him properly. Given her sense of direction, Toru and Akari's came in helpful as guides, and as mercenaries, given that those that possess the remnants of her father aren't keen on giving them up. For Chaika's father was the late Emperor Arthur Gaz, a five-hundred-year-old tyrant that was finally slain in that last war. Those body-parts are imbued with great latent magic, the heroes that possess them won them as prizes for slaying him, and there are those that don't want them falling into the wrong hands. On the other hand, there are still those loyal to the Emperor that would use their power, and Chaika as a figurehead ruler, to re-establish that tyranny.
In the first season, what seemed like a simple quest got a whole lot more complicated, when it turned out that there are multiple Chaikas searching for the remains of the Emperor, albeit for different reasons. And when the search came to the attention of the government, some serious politicking ensued, and the Gillet Corps of the Kleeman agency was assigned to stop Chaika. At the end of the previous series, Chaika and her friends overcame a difficult challenge, but Chaika was left even more conflicted about who she was, and the nature of her mission.
10 episodes of Chaika: The Coffin Princess Series 2 plus the OVA are presented across two Blu-rays from Hanabee Entertainment, although the show is also available on DVD if you aren't HD capable.
Disc 1
1. The Princess who Gathers the Remains
2. A Wizard's Pride
3. The Harbor of Phantom Dreams Recollected
4. The Writhing Island
5. The Emperor's Inheritance
6. The Castle of Madness
7. Black Agenda
8. The Bells of Contention
Disc 2
9. The Throne that Invites War
10. The Girl Who Carries the Gandr
OVA. The Targeted Coffin/Ruins Resurrected
Picture
The Blu-ray discs present the show in 1.78:1 widescreen 1080p ratio and resolution. The image is clear and sharp throughout, colours are strong and consistent, and there is no problem with compression, aliasing, or digital banding. Chaika looks great on Blu-ray, and I've already upgraded the season 1 DVDs to BD for consistency on my shelf, or at least as consistent as it with two releases from two different countries... It's a Studio Bones animation, so while the character designs may be somewhat standard for anime (nice costume design though), they are studiously well animated, with great attention to detail, and fluid, expressive action sequences. The show is bright, with an appealing, vibrant colour palette, and it looks great.
Sound
You have the choice between PCM 2.0 Stereo English and Japanese with subtitles and signs locked during playback, but you can set up any combination from the main or the pop-up menu. You could conceivably have Japanese with signs only, but you can't have the image without any subtitle stream at all. That's one of the advantages of a Hanabee authored disc. The other is that the subtitles are in a discrete white font, rather than the usual large Sentai Yellow. The subtitles are timed accurately and are free of typos.
My preference as always is for the original language track, and it's a solid, likeable cast, with Chaika in particular endearingly cute. I gave the English dub a try, and surprisingly for a Sentai effort, is more than just bearable, with some enthusiastic and fitting performances, especially from Toru's voice actor. I must say that for me, the English Chaika sounded more moronic than quirky, but that might be down to English being my first language. I can't guess how Japanese Chaika sounds to a native Japanese speaker.
Extras
You get two discs in a BD Amaray style case, with one held on a central hinged panel. There's artwork and an episode listing on the inner sleeve. The discs boot to static menus, and you get translated English credits after each episode.
Disc 2 has the extras, which amount to the textless credits, and trailers for Re-Kan!, Plastic Memories, and The Kawai Complex Guide to Manors & Hostel Behavior.
Conclusion
Often a subsequent season to an anime is made to cash in on the success of the original, to just extend and expound upon the story, usually open-ended to sustain the hope of a never-ending franchise. This isn't one of those series. For once, if you have the first season of Chaika: The Coffin Princess, then you really do need season 2 as well, as it completes the story. You heard that right; for once, an anime tells a whole and complete story, from beginning to end, and if like me, you enjoyed the first season of Chaika, then you'll enjoy the second season too, for many of the same reasons. It's still a show where you get an engaging and interesting story, populated by generic characters conforming to the more popular anime tropes, but where the story is actually good enough for you to put its weakness to one side. Having said all that, Chaika season 2 does have a couple of other issues that weaken it in comparison, and nudge it down ever so slightly in my estimation.
We start the second season in much the same way as the first ended, with Chaika's band seeking out former heroes to recover the Emperor's remains. But after a relatively light opening story, things get serious pretty quickly when they have to divert to a mysterious island to recover the Emperor's inheritance. We're in serious Dr Moreau territory here, with an island populated by magically engineered freaks, but the reason behind this island's mad scientist and his menagerie ties into the Emperor and his legacy, the very nature of Chaika, and her compulsion to collect the remains. That first became an issue in the first season with the discovery of different Chaikas all aiming to do the same thing, and the question as to whether they really are the Emperor's daughter. So the show's protagonist is questioning herself more and more by this point.
The story concludes with the last half of the season devoted to the final piece of the puzzle, at a hero named Hartgen's castle. It's here that Chaika's nature is finally revealed, and the story heads for its suitably explosive climax. It's certainly satisfying, and appropriately 'big' although I have to admit that the real reason behind the collection of the Emperor's remains didn't really come as a surprise to me, and consequently neither did the nature of the final antagonist that our heroes had to face. But the show does give a satisfying denouement to the story.
While the narrative may be strong and satisfying, I can't say the same about the character arcs, which in this collection were handled almost as an afterthought. I just think that 10 episodes were not enough to do the character arcs justice. While the main characters, Chaika, Toru, Akari and Frederica got the bulk of the focus through the second season, even they were let down by the epilogue, which just didn't show enough of the aftermath, or the consequences of Chaika's decision at the end. In comparison, Red Chaika's storyline and that of Vivi and Alberic Gillet were ephemeral throughout the season, and given how much development these stories got in the first season, I can't help but be a little disappointed here. And yet, the show does find enough time to pull out an OVA episode, two short stories set during the first season, and played for laughs, and in true OVA tradition the girls find a reason to get into swimsuits.
Chaika: The Coffin Princess – Avenging Battle is almost as good as the first season, and more importantly, it actually concludes the story. It's downright essential if you liked the first season, and it's well worth the import.