One Piece Film: Gold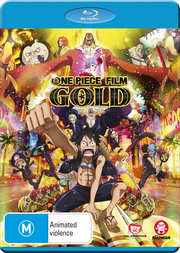 It's a life-or-death gamble
Certificate: M
Running Time: 124 mins
Retail Price: AU$34.95
Release Date: 2017
Content Type: Movie
Synopsis:
Known as the "moving country of dreams", Gran Tesoro is a massive ship that operates as the world's greatest entertainment city. The ship is so large and wealthy, that it is acknowledged by the World Government as an independent state and doubles as a demilitarised zone, offering pirates, marines and millionaires alike absolute sanctuary.

It is here that Luffy and the Straw Hat Pirates take on Gild Tesoro, the captain and ruler of Gran Tesoro. As the golden emperor of the famed city on the water, and the richest man in the world, he easily wins all over to his side with his substantial fortune. However, he is about to raise the stakes to satisfy his bottomless ambition, which will have dire consequences for the New World if our heroes fail their mission!

One Piece Film: Gold is the latest film in the One Piece franchise, adapted from the original manga series of the same name by Eiichiro Oda. With over 380 million copies sold throughout the world, One Piece is ranked as the best-selling manga series of all time.
Special Features:
Place Your Bets on the Straw Hats
Trailers

Video Tracks:
1.78:1 widescreen 1080p

Audio Tracks:
Dolby TrueHD 5.1 Surround English
Dolby TrueHD 5.1 Surround Japanese

Subtitle Tracks:
English

Directed By:
Hiroaki Miyamoto

Written By:
Tsutomu Kuroiwa
Eiichiro Oda

Starring:
Akemi Okamura
Cho
Hiroaki Hirata
Ikue Otani
Kappei Yamaguchi
Kazuki Yao
Kazuya Nakai
Mayumi Tanaka
Yuriko Yamaguchi
Gaku Hamada
Hikari Mitsushima
Kazuhiro Yamaji
Kendo Kobayashi
Kinya Kitaoji
Nanao
Brina Palencia
Christopher R. Sabat
Colleen Clinkenbeard
Eric Vale
Ian Sinclair
Luci Christian
Patrick Seitz
Sonny Strait
Stephanie Young
Amber Lee Connors
Daman Mills
Keith Silverstein
Michele Knotz
Tyson Rinehart

Music From:
Yuki Hayashi

Director of Photography:
Naoyuki Wada

Editor:
Masahiro Goto

Producer:
Kei Kajimoto
Yuta Kano

Executive Producer:
Hidenobu Muramatsu
Katsuhiro Takagi
Masahiko Ibaraki
Satoshi Oshita
Shinichi Ogawa
Yoshitaka Tao

Distributor:
Madman Entertainment