One Piece Collection 16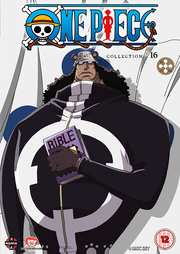 Set sail for One Piece!
Certificate: 12
Running Time: 566 mins
Retail Price: £34.99
Release Date: 2017
Content Type: TV Series
Synopsis:
The harrowing Thriller Bark arc reaches its brutal end with a superhuman slugfest!

Luffy, battered beyond belief, pushes his body past the breaking point as he seeks to save his friends and deliver the decisive blow against Gecko Moria. When the dust clears, only Zoro and Sanji are left standing to protect their fallen captain from the brutish Bartholomew Kuma. Should one of them somehow withstand a savage beating from this behemoth, the crew just might survive long enough for Sanji to meet his dream girl—a beautiful mermaid in distress named Camie! After taking her on board, the Straw Hats drop anchor at an island bursting with bubbles in the hopes of equipping their ship for underwater travel. But when Camie is kidnapped, job number one becomes saving their newest friend from the cruel clutches of the Celestial Dragons!

One Piece Collection 16 contains 373-396.
Special Features:
Textless Credits
Audio Commentaries
In the Galley With the Straw Hats
Villains and Fishmen: A Peek Behind the Curtain

Video Tracks:
1.78:1 anamorphic widescreen

Audio Tracks:
Dolby Digital 5.1 Surround English
Dolby Digital 2.0 Stereo Japanese

Subtitle Tracks:
English

Directed By:
Kônosuke Uda
Hiroaki Miyamoto
Junji Shimizu
Munehisa Sakai

Written By:
Hirohiko Uesaka
Junki Takegami
Eiichiro Oda

Starring:
Akemi Okamura
Hiroaki Hirata
Kappei Yamaguchi
Ikue Ohtani
Kazuya Nakai
Kazuki Yao
Mayumi Tanaka
Yuuichi Nagashima
Yuriko Yamaguchi
Colleen Clinkenbeard
Eric Vale
Ian Sinclair
Brina Palencia
Luci Christian
Sonny Strait
Christopher R. Sabat
Stephanie Young
Patrick Seitz

Music From:
Kouhei Tanaka
Shiroh Hamaguchi

Editor:
Masahiro Goto
Nobuko Maki
Shinichi Fukumitsu

Producer:
Yoshihiro Suzuki

Distributor:
Manga Entertainment