X-Men Trilogy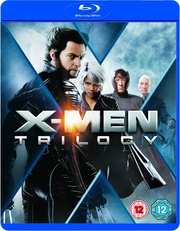 See X-Men like never before!
Certificate: 15
Running Time: 342 mins
Retail Price: £39.99
Release Date: 2009
Content Type: Movie
Synopsis:
X-Men
Born into a world filled with prejudice are children who possess extraordinary and dangerous powers--the result of unique genetic mutations. Cyclops (James Marsden) unleashes bolts of energy from his eyes. Storm (Halle Berry) can manipulate the weather at will. Rogue (Anna Paquin) absorbs the life force of anyone she touches. But under the tutelage of Professor Xavier (Patrick Stewart), these and other outcasts learn to harness their powers for the good of mankind. Now they must protect those who fear them as the nefarious Magneto (Ian McKellen), who believes humans and mutants can never co-exist, unveils his sinister plan for the future.

X-Men 2
When new teleporting mutant Nightcrawler (Alan Cumming, Goldeneye) appears inside The White House and attempts to assassinate the President, the X-Mens' world is thrown into danger. Rebel baddie Stryker (Brian Cox, Manhunter) is behind it and plots an elaborate plan to capture all mutants including the pupils at Professor Xavier's School for the 'Gifted'. It is then up to the indestructible Wolverine (Hugh Jackman, Swordfish) to discover the truth about what is going on, and in the process, the story behind his own identity. Meanwhile, the villainous Magneto breaks free from prison with the help of his shape-shifting comrade, Mystique (Rebecca Romjin-Stamos, Femme Fatale), creating more cataclysmic events for the X-Men. As danger beckons, the mutants call upon their powers to an even greater extent.

Dr Jean Grey (Famke Janssen, Goldeneye) reaches extraordinary new levels using her powers of telepathy alongside weather-manipulator Storm, life-force zapper Rogue, laser beam Cyclops and the cool Ice-Man (Shawn Ashmore). United with further newcomers including the iron claw-clad Lady Deathstrike (Kelly Hu, The Scorpion King) and fingertip firestarter Pyro (Aaron Stanford), X-Men 2 contains the most spectacular array of super-hero powers you have ever seen.

X-Men: The Last Stand
Worthington Laboratories--using a powerful mutant boy--develops a serum that eliminates the 'mutant X gene' permanently. This so-called 'cure' quickly divides the mutant community; Professor Xavier and his school are willing to give the government the benefit of the doubt but Magneto and his mutant Brotherhood see the serum as a vile threat to their way of life. They form an army of mutants and march on the fortified Worthington Laboratory located on Alcatraz Island. A much more dire threat appears in the form of the resurrected super-mutant Jean Grey, who has succumbed to her cataclysmic identity known as The Phoenix.
Special Features:
Audio Commentaries
Deleted Scenes
Featurettes
Art Galleries
Documentaries
Bonusview content
Trailers
and more...

Video Tracks:
2.35:1 widescreen 1080p
2.40:1 widescreen 1080p

Audio Tracks:
DTS-HD MA 5.1 Surround English
Dolby Digital 5.1 Surround English
DTS 5.1 Surround German
DTS 5.1 Surround Spanish
Dolby Digital 5.1 Surround Hungarian
DTS-HD MA 6.1 Surround English
DD 5.1 EX Surround English

Subtitle Tracks:
English
German
Spanish
Hunagrian
Swedish
Danish
Norwegian
Finnish
Icelandic

Directed By:
Bryan Singer
Brett Ratner

Written By:
Zak Penn
Simon Kinberg
David Hayter
Bryan Singer
Michael Dougherty
Dan Harris
David Hayter
Tom DeSanto

Starring:
Patrick Stewart
Hugh Jackman
Ian McKellen
Halle Berry
Famke Janssen
Anna Paquin
James Marsden

Casting By:
Coreen Mayrs
Roger Mussenden
Juli-Ann Kay
Heike Brandstatter
Richard Pagano

Soundtrack By:
John Ottman
Michael Kamen
John Powell

Director of Photography:
Newton Thomas Sigel
Dante Spinotti

Editor:
Elliot Graham
John Ottman
John Wright
Mark Goldblatt
Mark Helfrich
Julia Wong
Kevin Stitt
Steven Rosenblum

Costume Designer:
Louise Mingenbach
Judianna Makovsky
Lisa Tomczeszyn

Production Designer:
Guy Dyas
John Myhre
Ed Verreaux

Producer:
Ross Fanger
Kevin Feige
David Gorder
John H. Radulovic
Selwyn Roberts
Lauren Shuler Donner
Ralph Winter

Executive Producer:
Avi Arad
Tom DeSanto
Stan Lee
Bryan Singer

Distributor:
Twentieth Century Fox