X Men 2 (UK)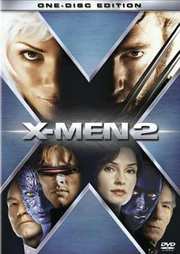 The time has come for those who are different to stand united
Certificate: 12
Running Time: 128 mins
Retail Price: £15.99
Release Date:
Content Type: Movie
Synopsis:
Mutants continue their struggle against a society that fears and distrusts them. Their cause becomes even more desperate following an incredible attack in The White House by an as yet undetermined assailant possessing extraordinary abilities. The shocking attack renews the political and public outcry for a Mutant Registration Act and an anti-mutant movement now led by William Stryker (Brian Cox), a wealthy former Army commander who is rumored to have experimented on mutants.

Stryker`s mutant "work" is somehow tied to Logan`s mysterious and forgotten past. As Wolverine searches for clues to his origin, Stryker puts into motion his anti-mutant program - launching an attack on Xavier`s mansion. Magneto, newly escaped from his plastic prison, proposes a partnership with the X-Men to combat their common and formidable enemy: Stryker. With the fates of Xavier, mankind - and mutantkind - in their hands, the X-Men face their most dangerous mission ever!
Special Features:
Audio commentary from director Brian Singer, composer/editor John Ottman and Tom Sigel. Audio commentary from producers Lauren Shuler Donner and Ralph Winter, and writers Michael Dougherty, Dan Harris and David Hayter.

Video Tracks:
Widescreen Anamorphic 2.40:1

Audio Tracks:
Dolby Digital 5.1 English
DTS 5.1 English

Subtitle Tracks:
CC: English

Directed By:
Bryan Singer

Written By:
Dan Harris
Michael Dougherty
Bryan Singer
David Hayter
Zak Penn

Starring:
Bruce Davison
Alan Cumming
Anna Paquin
James Marsden
Brian Cox
Famke Janssen
Halle Berry
Ian McKellen
Hugh Jackman
Patrick Stewart

Casting By:
Roger Mussenden
Coreen Mayrs

Soundtrack By:
John Ottman

Director of Photography:
Newton Thomas Sigel

Editor:
John Ottman
Elliot Graham

Costume Designer:
Louise Mingenbach

Production Designer:
Guy Dyas

Producer:
Ralph Winter
Lauren Shuler Donner
Selwyn Roberts
John H. Radulovic
David Gorder
Kevin Feige
Ross Fanger

Executive Producer:
Bryan Singer
Stan Lee
Tom DeSanto
Avi Arad

Distributor:
Twentieth Century Fox