Sphere / 2010: The Year We Made Contact / Contact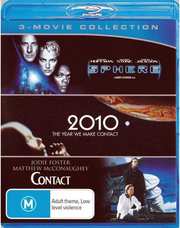 Three Spectacular Sci-fi Movies of the Best Kinds
Certificate: M
Running Time: 400 mins
Retail Price: AU$ 19.95
Release Date: 2012
Content Type: Movie
Synopsis:
SPHERE: 1000 feet below the ocean, navy divers discover an object half-a-mile long. A crack team of scientists are deployed to the site in Deepsea Habitats. What they find boggles the mind as they discover a perfect metal sphere. What is the secret behind the sphere Will they survive the mysterious 'manifestations' Who or what is creating these They may never live to find out.

2010: THE YEAR WE MADE CONTACT: In this sequel to 2001: A Space Odyssey, a joint American- Soviet expedition is sent to Jupiter to discover what went wrong with the U.S.S. Discovery against a backdrop of growing global tensions. Among the mysteries the expedition must explain are the appearance of a huge black monolith in Jupiter's orbit and the fate of H.A.L., the Discovery's sentient computer.

CONTACT: Astronomer Dr. Ellie Arroway has long been interested in contact to faraway lands, a love fostered in her childhood by her father, Ted Arroway, who passed away when she was nine years old leaving her then orphaned. Her current work in monitoring for extraterrestrial life is based on that love and is in part homage to her father. Ever since funding from the National Science Foundation (NSF) was pulled on her work, which is referred to some, including her NSF superior David Drumlin, as more science fiction than science, Ellie, with a few of her rogue scientist colleagues, have looked for funding from where ever they could get it to continue their work. When Ellie and her colleagues hear chatter originating from the vicinity of the star Vega, Ellie feels vindicated. But that vindication is short lived when others, including politicians, the military, religious leaders and other scientists such as Drumlin.
Special Features:
2010: The Year We Make Contact

2010: The Odyssey Continues featurette
Trailer


Contact

Commentary by Jodie Foster
Commentary by Robert Zemeckis and Steve Starkey
Commentary by Ken Ralston and Stephen Rosenbaum
Making of Featurettes
CGI comparisons
5.1 Music Only track
Trailers


Sphere

Commentary by Dustin Hoffman and Samuel L. Jackson
Special Effects featurette
Theatrical Trailer
TV Spots

Video Tracks:
2.35:1 Widescreen 1080p

Audio Tracks:
Dolby TrueHD 5.1 Surround English
Dolby Digital 2.0 Stereo French
Dolby Digital 2.0 Stereo Portuguese
Dolby Digital 2.0 Stereo Spanish
Dolby Digital 1.0 Mono Portuguese
Dolby Digital 5.1 Surround French
Dolby Digital 5.1 Surround German
Dolby Digital 5.1 Surround Italian
Dolby Digital 5.1 Surround Spanish
Dolby Digital 5.1 Surround English
Dolby Digital 5.1 Surround Catalan

Subtitle Tracks:
English
French
Spanish
German
Italian
Portuguese
Dutch
Swedish
Danish
Finnish
Norwegian
Catalan

Directed By:
Peter Hyams
Barry Levinson
Robert Zemeckis

Written By:
Peter Hyams
Arthur C. Clarke
Michael Crichton
Kurt Wimmer
Stephen Hauser
Paul Attanasio
Carl Sagan
Ann Druyan
James V. Hart
Michael Goldenberg

Starring:
Keir Dullea
Bob Balaban
Helen Mirren
John Lithgow
Roy Scheider
Dustin Hoffman
Sharon Stone
Samuel L. Jackson
Peter Coyote
Liev Schreiber
Queen Latifah
Jena Malone
David Morse
Jodie Foster
William Fichtner
Matthew McConaughey
Tom Skerritt
James Woods
Angela Bassett
John Hurt

Casting By:
Penny Perry
Ellen Chenoweth
Victoria Burrows

Music From:
Elliot Goldenthal
David Shire
Alan Silvestri

Director of Photography:
Peter Hyams
Adam Greenberg
Don Burgess

Editor:
James Mitchell
Mia Goldman
Stu Linder
Arthur Schmidt

Costume Designer:
Patricia Norris
Gloria Gresham
Joanna Johnston

Production Designer:
George Trimmer
Syd Mead
Norman Reynolds
Ed Verreaux

Producer:
Jonathan A. Zimbert
Neil A. Machlis
Peter Hyams
Michael Crichton
Barry Levinson
Andrew Wald
Steve Starkey
Robert Zemeckis

Executive Producer:
Peter Giuliano
Joan Bradshaw
Lynda Obst

Distributor:
Warner Bros