Blade Runner: The Final Cut (2 discs)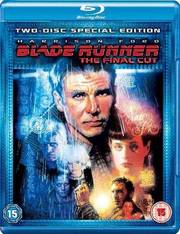 A chilling, bold, mesmerizing, futuristic detective thriller
Certificate: 15
Running Time: 118 mins
Retail Price: £27.99
Release Date: 2007
Content Type: Movie
Synopsis:
Rick Deckard (Harrison Ford) prowls the steel-and-microchip jungle of 21st century Los Angeles. He's a "blade runner" stalking genetically made criminal replicants. His assignment: kill them. Their crime: wanting to be human.

The story of Blade Runner is familiar to countless fans. But few have seen it like this. Because this is director Ridley Scott's own vision of his sci-fi classic. This new version omits Deckard's voiceover narration, develops in slightly greater detail the romance between Deckard and Rachael (Sean Young) and removes the "uplifting" finale. The result is a heightened emotional impact: a great film, made greater. Most intriguing of all is a newly included unicorn vision that suggests Deckard may be a replicant. Do Androids Dream of Electric Sheep? Is Deckard a replicant? As with all things in the future, you must discover the answer to find yourself .
Special Features:
Commentary on The Final Cut by Ridley Scott

Commentary by Executive Producer/ Co-Screenwriter Hampton Fancher and Co-Screenwriter David Peoples, Producer Michael Deely and production executive Katherine Haber

Commentaries by visual futurist Syd Mead, production designer Lawrence G. Paull, art director David L. Snyder and special photographic effects supervisors Douglas Trumbull, Richard Yuricich and David Dryer

Documentary: Dangerous Days - Making Blade Runner - A feature-length authoritative documentary revealing all the elements that shaped this hugely influential cinema landmark. Cast, crew, critics and colleagues give a behind-the-scenes, in-depth look at the film -- from its literary roots and inception through casting, production, visuals and special effects to its controversial legacy and place in Hollywood history.

Video Tracks:
2.40:1 widescreen 1080p

Audio Tracks:
Dolby TrueHD 5.1 Surround English
Dolby Digital 5.1 Surround English
Dolby Digital 5.1 Surround Spanish
Dolby Digital 5.1 Surround German
Dolby Digital 5.1 Surround French
Dolby Digital 5.1 Surround Italian

Subtitle Tracks:
French
Italian
Swedish
Finnish
English
Spanish
German
Dutch
Danish
Norwegian

Directed By:
Ridley Scott

Written By:
Philip K. Dick
Hampton Fancher
David Webb Peoples
Roland Kibbee

Starring:
Harrison Ford
Rutger Hauer
Sean Young
Edward James Olmos
M. Emmet Walsh
Daryl Hannah

Casting By:
Jane Feinberg
Mike Fenton
Marci Liroff

Soundtrack By:
Vangelis

Editor:
Marsha Nakashima

Costume Designer:
Jean Giraud
Charles Knode
Michael Kaplan

Production Designer:
Peter J. Hampton
Lawrence G. Paull

Visual Effects:
Michael Backauskas
William Curtis
Ken Estes
Logan Frazee
Steve Galich
Bill George
Gregory L. McMurry
George Trimmer

Producer:
Ivor Powell
Ridley Scott
Michael Deeley

Executive Producer:
Hampton Fancher
Jerry Perenchio
Bud Yorkin
Brian Kelly

Distributor:
Warner Bros