Hellboy II: The Golden Army
Introduction
As Guillermo del Toro couldn't secure the rights to
Hellboy
, he couldn't use any clips so the film begins with a brief summation of Hellboy's origin, before moving to Christmas Eve where Professor Broom is telling a young Hellboy a bedtime story. The story is of a war between humans and mythical creatures in which, responding to human aggression, the Elfin King Balor orders the creation of an army of 70 times 70 unstoppable golden warriors who, commanded by the wearer of a golden crown and feeling no emotion or hunger, slaughter the humans. Regretting his decision, Balor offers a truce to end the war and splits the crown into three pieces - two parts for the elves, one for the humans.
The action moves onto an auction in New York where the humans' portion of the crown is up for sale but the auction is interrupted by Balor's son, Prince Nuada (Luke Goss), who never agreed with the truce and has returned from exile to resurrect the Golden Army. With his faithful troll, Wink, Nuada sets loose two boxes of very hungry tooth fairies, takes the crown piece, kills everyone in the auction house and leaves the mess for the Bureau for Paranormal Research and Defence (BPRD) to clean up.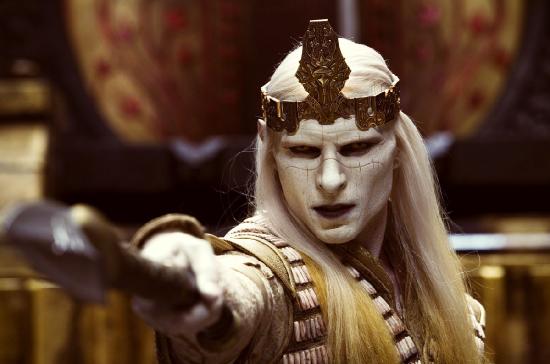 The BPRD, especially Hellboy (Ron Perlman), have been testing the Department's head, Tom Manning's (Jeffrey Tambor), ability to keep them a secret. When they get to the auction house and fight the tooth fairies 'Big Red' gets himself blown out of a window and lands on a car in front of photographers, the secret is out. In an attempt to control the publicity seeking demon, the government adds the authoritarian and educated German scientist Johann Krauss (voiced by Seth MacFarlane) to the team as a new leader - much to Hellboy's chagrin but Abe's delight.
The team must now track down Prince Nuada before he completes the crown and resurrects the Golden Army, but matters are complicated when Abe (Doug Jones) falls in love with Princess Nuala (Anna Walton) and Hellboy and Liz (Selma Blair) are having relationship problems. The BPRD find they are unable to simply kill the Prince as he shares a bond with his sister that is so strong that they feel each other's physical pain.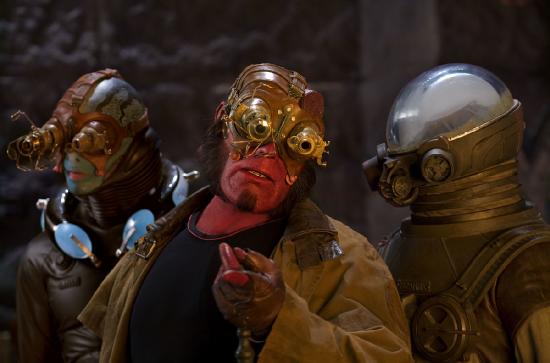 Video
This is a brilliant transfer of a visually stunning film. The colours are vibrant, the contrast deep, CGI near-flawless and del Toro makes great use of practical effects so the actors can interact with creatures you'd expect only to exist on a computer. The CGI and practical effects are so good that things I thought were real turned out not to be and vice-versa. There are some wonderful creatures like Wink, the Earth Elemental and the Angel of Death showing that this is more of a del Toro film than the first, as he clearly loves the monsters and puts lots of time into designing and bringing them to life.
Del Toro's visual flair is clear to see in just about every frame. His use of
mise-en-scène
is incredible and there are several sequences - particularly the troll market - that you can watch several times over and pick up something new each time, freeze framing allows you to take in the sheer depth and attention to detail which is breathtaking.
*The pictures contained in this review are for illustrative purposes only and do not reflect the image quality of the disc.*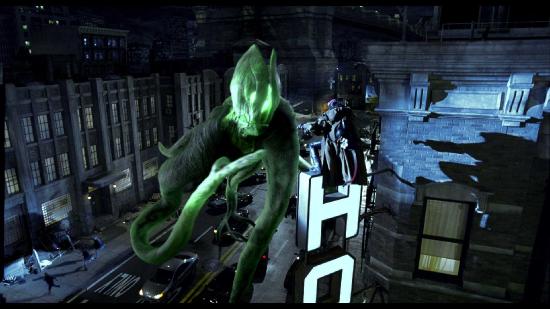 Audio
There are six audio options, five in DTS 5.1 with the English in DTS-HD Master Audio 7.1 which benefits from the extra 2 channels and immerses you in the film - I cranked up the volume to see what the quality was like and boy, did it test the structural integrity of my house! The battle scenes in the prologue and fight sequences get the sub working, with plenty of LFE and the more complex scenes like the Troll Market and the Tooth Fairy attack, have you surrounded by flying pixies and ambient sounds from everywhere.
There are numerous subtitling options - I tested the English and it was very good - plus forced subtitling when mythical languages are used. These subtitles extend to the extra features, though curiously not the actors' commentary track.
Extra Features
Oddly the set contains a BD for the film and DVD for the extras so none of the supplementary material is in High Definition. This is unusual but perhaps none of it was filmed in HD so would have been in standard definition in any case.
On the Blu-ray you have two
commentaries
, the U-Control option and BD-Live. The first commentary, by Guillermo del Toro is, as always, excellent imparting plenty of information; del Toro starts by saying he's here to ruin your evening but he couldn't be further from the truth. He is one of the few directors that I like to listen to and would revisit one of his commentary tracks and this is just a great listen. Sadly this is not the case with the other commentary as Jeffrey Tambor, Selma Blair and Luke Goss spend more time watching the film than talking about it and at other times talk about unrelated issues - for instance they get completely distracted discussing whether John Hurt is a Sir or not and whether he will end up in the House of Lords rather than providing any information about the prologue. They do impart some information but not often enough and it would have benefited from a moderator.
U-Control
gives you lots of option whilst you are (re)watching the film with pop-up storyboards, effects footage in various stages of development, interviews and b-roll footage. Some of this is presented as picture-in-picture and others will branch from the main film but they will add to the longevity of the disc. There is also a
Comic Book Builder
which seems self explanatory though, as there was a problem with the review disc, I couldn't try it. The created comic can also be shared with other people using
BD-Live
which also allows you to connect to friends and chat whilst watching the film.
There is also an
Easter egg
of outtakes which isn't that difficult to find and is quite amusing.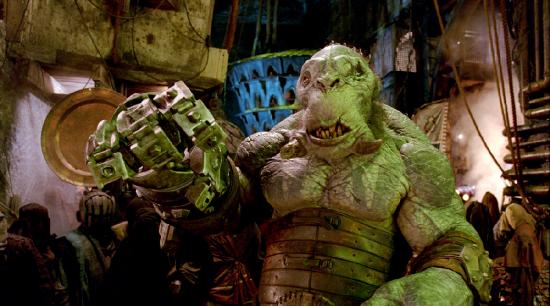 Disc 2 kicks off with a short introduction by Guillermo del Toro, welcoming you to the extra material. As with the
Hellboy
DVD and BD, the bulk of the extras are in one feature-length piece, in this case
Hellboy: In Service of the Demon
which is a hefty package, running at 155 minutes and covering every aspect of the film, from pre- to post-production. This is an excellent companion piece and shows the value of documenting the entire process. There are chapters on, amongst others, the designs, the greenscreen work, the practical effects and stunts with contributions from the actors and members of the crew.
The
Production Workshop
also has an introduction by del Toro and shows the animated opening with del Toro's preliminary sketches of the scene at the top right, Mike Mignola's more polished storyboards at the top left and the finished scene at the bottom. There is an optional commentary by del Toro which I thought would be duplicated from the film, but is specific to this developmental process.
Pre-Production Vault
consists of four galleries: Creature Design, Mike Mignola Creator Gallery, Production Design and Production Stills. Each as a huge number of stills, pictures or sketches which can be viewed individually or as part of a slideshow; Mike Mignola provides a commentary for his gallery, which runs at a healthy 36 minutes.
The
Marketing Campaign
is broken into Print Gallery and Poster Explorations; basically two galleries of posters - those that made it and those that didn't.
The
Troll Market Tour with Guillermo del Toro
is a fascinating 12 minute look at the design of one of the most visually impressive scenes in the movie, if not his entire oeuvre, with the director taking you on a guided tour of the huge set and showing you areas that either weren't shown or just appeared briefly.
The
Zinco Epilogue: Animated Comic
is an animated comic book, based on del Toro's screenplay and is a potential link between
Hellboy
and
Hellboy III
, set as it is around the recovery and re-animation of Rasputin.
There are six
Deleted Scenes
with optional commentary by del Toro, mostly cut for pacing reasons and well worth a look.
All of these are subtitled in the same languages (and more) as the feature film.
Finally, there is a short Hellboy comic book by Mike Mignola exclusive to HMV.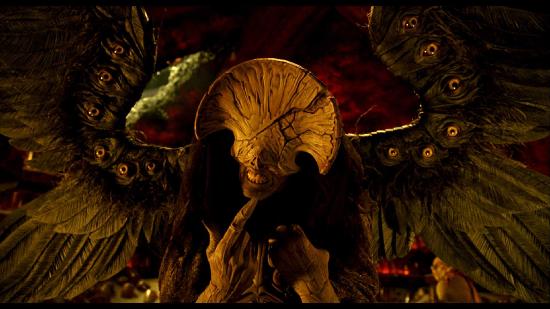 Conclusion
Guillermo del Toro used to make one film for himself and one for Hollywood (
Cronos
then
Mimic
,
The Devil's Backbone
followed by
Blade II
) but in doing
Hellboy
he found a pet project that was accepted in America. After making the sublime
Pan's Labyrinth
he returned to Mike Mignola's comic book but, not being bound to a pre-written story, this is the closest that a mainstream Hollywood movie has felt like a personal del Toro film.
The film, at times, feels like the second part of a trilogy in terms of character dynamics and relationships but for the vast majority of the running time it is a wonderful fantasy film. The script was funny, the pace didn't lag, the cinematography, character design, special effects make up, CGI and direction were all excellent and Ron Perlman was again great. He's more than ably supported by Selma Blair, Jeffrey Tambor, Anna Walton, Doug Jones (who showed that he didn't need David Hyde Pierce to provide the voice of Abe) and the other 'men in suits' who worked for hours in heavy costumes and prosthetics. Luke Goss continues to surprise as an actor after his fine performance in
Blade II
- who'd have expected that from one half of Bros? - and was a great nemesis for the BPRD, providing Hellboy with reasons to doubt his place amongst humans.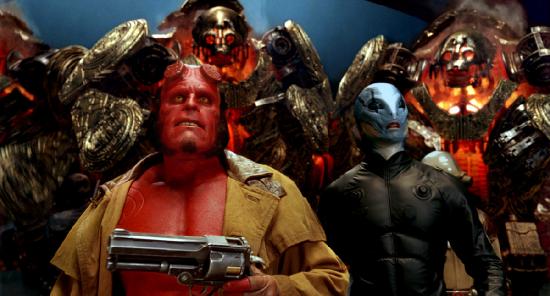 The script is lively and witty, with del Toro's love for the creature and fetishistic interest of gears and machinery evident. The scene with Abe and Hellboy drunkenly crooning along to Barry Manilow is almost worth the price of a rental alone and you'll be humming Can't Smile Without You for hours or even days afterwards - I was!
Hellboy II
is a great visual experience, especially the troll market scene, and one that looks fantastic in high definition. Although he has stiff competition from Terry Gilliam and Tim Burton, del Toro, for me, really is the master of warped fairytales and a true visionary master. He understands the worth of the home cinema market providing tremendous packages, with hours of extra material which are never dull and really worth going through. This film was only made possible because of the success of
Hellboy
on DVD (it made $50million from rentals according to the IMDb) and I urge to buy or rent this is on either DVD or Blu-ray Disc in the hope that a third instalment will be made.
A mark of
Hellboy II
's quality is that it is del Toro's follow-up to
Pan's Labyrinth
and it doesn't disappoint, even on repeated viewings. It is a great example of how to make a fantasy movie with elements of horror and sci-fi, with some terrific lines. Though it's a shame that the extra features are only in standard definition and on DVD, this is still a terrific package and well worth your time and money.