Anime Review Roundup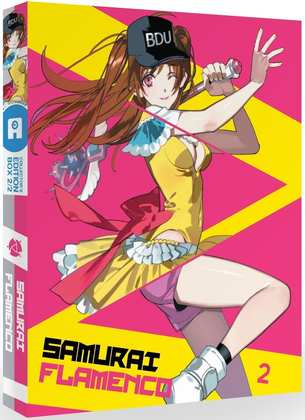 Just one new review for you last week, although it's a title that has been out for quite some time now. It's also a title that ably demonstrates the depths of my obsessive behaviour. I reviewed part 1 when it was released, but check discs for
Samurai Flamenco Part 2
weren't forthcoming. If you click on the review, you'll see just why it's not my favourite anime show; it's a story that aims for the stars, but falls spectacularly flat, and while that might explain my need to complete the show, it in no way explains my compulsion to pay money for something that I know I won't get any satisfaction from. Amateur psychoanalysis is welcome, and leave it in the comments.
This Week I Have Been Mostly Rewatching...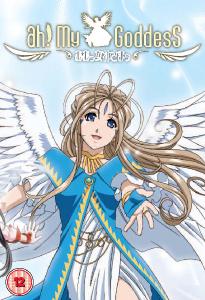 Ah My Goddess TV. Now this is a lot easier to justify. Ah My Goddess is one of my go to feel-good shows. It does have the longest romance in rom-com history. Keiichi and Belldandy's courtship is practically glacial. It makes Mulder and Scully seem like a one-night-stand in comparison, but it is understandable. You really have to mind your ps and qs if you're going to get with a deity. One misstep could see you smote instead of smitten. The thing about Ah My Goddess is that it's light on drama, it's light on fan service, you just enjoy being in the company of these charming characters. It's the archetypal Iyashikei show before shows like K-On and Non Non Biyori came and really defined it as a genre.
A college student named Keiichi dials a wrong number, and gets the goddess Belldandy instead, who makes a dazzling appearance out of a mirror. She offers him one wish to counteract the years of misfortune he has suffered, and he wishes that someone like her stay with him forever. Unexpectedly, the wish is granted, and Keiichi's life with a goddess begins. It isn't long before her sisters Urd and Skuld show up, and all manner of divine mayhem ensues. It's as if anime did I Dream of Jeannie! Here's
Stuart McLean's review of the first series
where he says as much. MVM released it on six single volume DVDs back in 2007, and the following year released it as a collection. It's well and truly deleted now, and second hand is your best bet of finding it in the UK. It is available from the US, but Media Blasters still hold the licence, and they burn shows to order on DVD-R rather than have the discs manufactured as they did in the old days.
All the Anime released Samurai Flamenco Part 2 on Blu-ray back in 2016.