Sarah & Duck waddles on to DVD this February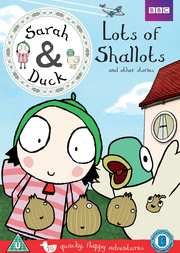 With the school holidays fast approaching, parents everywhere are desperate to have something handy that might keep the little ones quiet for a bit. Well
BBC Worldwide
and
CBeebies
are coming to the rescue on 17th February with DVD release
Sarah & Duck
.
Created by Tim O'Sullivan and Sarah Gomes Harris, this has voicework from Roger Allam and Lesley Nicol. The ten episodes included on this release are
Lots of Shallots, Sarah Duck & the Penguins, Cheer Up Donkey, Cake Bake, Scarf Lady's House, Robot Juice, Bouncy Ball, Rainbow Lemon, Sit Shop
and
Kite Flight
.
If this isn't enough for you, and your kids are S&D mad, there is the inevitable toy range and picture books on their way into stores this Spring. The recommended retail price for the DVD will be £10.20.
Synopsis and trailer follow...
This is an animated series about a girl with big eyes and a green hat and her flappy, quacky best friend Duck. The delightfully-drawn duo embark on a series of simple but exciting adventures, exploring the world in their own imaginative, quirky way, trying to reach a rainbow, pretending to be a penguin, or helping an umbrella to stay dry.
Every step of the way they are guided by the narrator who offers helpful suggestions and makes sure they don't go too far. And they are joined by other friends and neighbours Bug, Scarf Lady, Lots of Shallots and Scooter Boy.