Anime Review Roundup
All The Anime Set their 2014 Q1 Slate
We've had the Manga and the MVM New Year announcements, this time it's the turn of Anime Limited to set out what goodies are in store for us on their All the Anime label.
This blog post has all the details
, including what to look forward to from the Ultimate Editions of
Gurren Lagann
, and
Durarara!!
They kick things off with Makoto Shinkai's
Garden of Words
in February, followed by the oft –delayed
Tiger & Bunny Movie
and
Outlaw Star
in March, before bringing out the big Durarara!! guns in April.
Note that if you go to Amazon right now, and look up the April Blu-ray Limited Edition of Durarara!!, or the June Ultimate Edition of Gurren Lagann, you'll be able to pre-order them at a pre-release discount of almost 50%. These are limited editions, there will only be 2000 of the GL sets, so best get those orders in now.
Another interesting development from All the Anime is the pre-announcement of a kickstarter. It transpires that they have the licence to an anime feature film never before released in the UK or the US, although it has seen a French release. All the Anime will be putting forth a kickstarter to try and offer the best value for this title, for which they have both the UK and US distribution rights. Stay tuned to see what the magic title will be.
You may have noticed the absence of
Re:Cyborg 009
, which was scheduled for a January release. That has been put back to an as yet unspecified later date due to a delay in the dubbing process.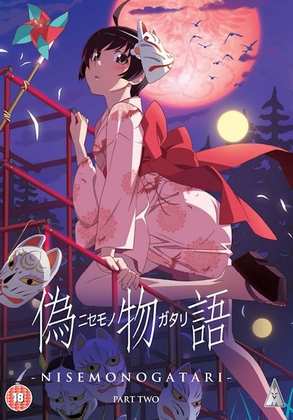 Just the one review for you last week anime-wise, as I took a look at the concluding chapter of Nisemonogatari. This time the focus is on the younger of the Fire Sisters, Tsukihi Araragi, as big brother Koyomi has to uncover the truth about her, and protect her from dark forces. Actually he has to show middle sister Karen the correct etiquette regarding brushing teeth. Believe me if one anime disc will actually get you into a dentist's chair, it's
Nisemonogatari Part 2
.
While I reviewed the DVD release of Nisemonogatari Part 2, MVM are releasing it today on both DVD and Blu-ray.