Halo 4: Forward Unto Dawn is out to buy now on DVD and Blu-ray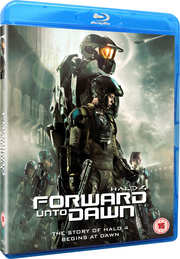 This weekend, we leave you with info about a movie based on a video game franchise, sorry about that. I'm not sure how we missed this one, but it apparently came out on 27th May, and if we'd noticed it we'd have told you, because it looks bad!
Released courtesy of
Anchor Bay Entertainment
, the action movie
Halo 4: Forward Unto Dawn
is out to buy now on DVD and Blu-ray, priced at £12.99 and £19.99 respectively, with a deluxe combo edition for £24.99.
Apparently this is a compilation of the web series, and both the Blu-ray and deluxe editions come with a making-of featurette, interviews, three behind the scenes featurettes and pre-release vignettes. The deluxe edition also includes a limited edition cardboard sleeve, set of 4 Halo art cards and an A3 poster.
Written by Todd Helbing and Aaron Helbing, this is directed by Stewart Hendler and stars Tom Green and Anna Popplewell.
Synopsis and trailer follow...
For generations, humans travelled the stars and worked together under the banner of the United Nations Space Command. Now that peace is shattered by insurrectionists, causing a galaxy-spanning civil war.
Cadet Thomas Lasky and his fellow students at Corbulo military academy now train to make this war their future. But Lasky is conflicted about his path, and his resolve is tested when the academy comes under attack from a terrifying alien assault.
Lasky and his fellow cadets fight for survival, only to find assistance from a mysterious ally – a mythic, armored super-soldier known as the Master Chief.