Oscar winning My Left Foot comes to Blu-ray this May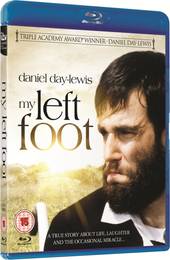 An Oscar winning film coming out on Blu-ray with a recommended retail price of a mere sensibly priced £9.99? That has to be hard for people to resist surely, especially when it stars Daniel Day-Lewis.
ITV Studios Global Entertainment
are releasing classic Jim Sheridan directed drama
My Left Foot
on 27th May, which co-stars Brenda Fricker and Declan Croghan. With a runtime of 99 minutes, extras include a stills gallery and biographies.
Synopsis and trailer follow...
Daniel Day-Lewis and Brenda Fricker give Oscar winning performance in an emotional tale of life, love and one family's sense of courage. Based on the true story Christy Brown, this highly acclaimed film depicts his struggle for a normal life.
Born with cerebral palsy into a poor, working-class Irish family, Christy was able to control movement in his left foot and to speak in guttural sounds. With the help of his strong-willed and dedicated family and his own sheer courage and determination, Christy not learns to grapple with life's physical tasks and complex psychological pains, but he also develops into a brilliant painter, poet and author.