World Premiere of major new opera Dulce Rosa on May 17th
The Broad Stage and L.A. Opera have joined forces to co-produce the world premiere of
Dulce Rosa,
a fully-staged, two-act opera by composer Lee Holdridge and librettist Richard Sparks, based on the Isabel Allende short story,
Una Venganza
("An Act of Vengeance").
Dulce Rosa
isa tale of romance and ruin, of revenge and redemption set in a South American country in the early 1950s. In the aftermath of a violent political uprising, a young woman plans her revenge against the merciless guerilla who murdered her father. Plácido Domingo, the Eli and Edythe Broad General Director of LA Opera, will conduct a production featuring the LA Opera Chorus and Orchestra. The title role will be performed by Uruguayan soprano María Antúnez. The set designer is Yael Pardess, with costumes by Durinda Wood, lighting by Anne Militello, and projection art created by Jenny Okun. This is the inaugural project of the LA Opera Off Grand series, devoted to new and eclectic operatic works presented in venues away from the company's home at the Dorothy Chandler Pavilion.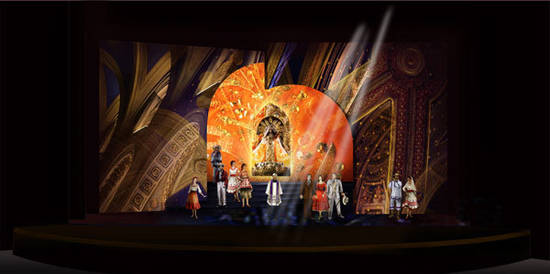 Transforming Isabel Allende's story,
Una Venganza
into
Dulce Rosa
Isabel Allende has been called "the world's most widely read Spanish-language author" having written 20 books. They have been translated into more than 30 languages and have sold more than 57 million copies. When Richard Sparks and Lee Holdridge approached her with a proposal to turn her story into an opera, she was intrigued.
Allende says. "People often come to me with projects. No one has ever approached me for an opera, but I accepted this opportunity without hesitation. One day Richard and Lee came to my house with the final product, having done all the work, and it is delightful."
The entire production was created "holistically." While Richard was writing the libretto, Jenny Okun made several visits to South and Central America to gather the photographic raw material for her multi-layer artworks, which will be projected on the sets to form the world of the story. This visual material was also valuable to Lee in the process of composing his score. He pinned Jenny's works on the wall of his studio, alongside Durinda Wood's research material for costumes and Yael Pardess's set designs. All elements progressed in step as the work evolved.
Richard wrote a first draft of
Dulce Rosa
between April and September 2009. Once Lee began composing, Richard and he met regularly, and the libretto went through numerous drafts as the opera took shape. While the story structure has not changed since the initial draft, the libretto has developed substantially. Entire lyric ideas have been replaced, arias have come and gone, and material has moved within the opera.
"We are always mindful that this is
drama
first and foremost," Lee says. "Everything happens in front of the audience's eyes – there is no singing about things that happened before the opera started. When, in Act Two, a character does reveal the traumatic events that happened to him in the past, it is the impact of that revelation on the other characters onstage that is the action of the scene, not his long-ago history."
Lee and Richard always workshop their operas, since their first commission for the Los Angeles Opera,
Journey to Cordoba
, 20 years ago.
Dulce Rosa
went through three complete, full-cast workshops over two years, all of which Plácido Domingo attended. The workshop process is enormously important. All involved were able to see the work-in-progress as it developed. Some crucial polishes, cuts, amendments and adjustments were made. It hardly needs saying that the value of input from someone as knowledgeable and insightful as Maestro Domingo cannot be overstated.
CAST
Rosa 
María Antúnez*

Tadeo Cespedes 
Alfredo Daza

Senator Orellano 
Greg Fedderly

Aguilar 
Craig Colclough

Inez 
Peabody Southwell*

Tomas 
Benjamin Bliss+

CREATIVE TEAM
Composer 
Lee Holdridge

Librettist/Director 
Richard Sparks

Conductor 
Plácido Domingo

Scenic Designer 
Yael Pardess*

Costume Designer 
Durinda Wood*

Lighting Designer 
Anne Militello*

Photographic Projections 
Jenny Okun


* LA Opera debut artist
+ Domingo-Thornton Young Artist Program member
THE BROAD STAGE
1310 11th Street Santa Monica, CA 90401
Tickets:
310.434.3200
Administrative offices:
310.434.3412
LINKS
Broad Stage information
http://thebroadstage.com/show_info.php?show_id=170
LA Opera information
http://www.laopera.com/season/Dulce-Rosa/
An exhibition of Jenny Okun's artworks for Dulce Rosa at the Craig Krull Gallery, Bergamot Station, Santa Monica opens June 1st 2013.
http://www.craigkrullgallery.com/Exhibition/future.html
www.jennyokun.com
PERFORMANCE DATES
Friday May 17th, Saturday May 25th, Tuesday May 28th, Monday June 3rd, Thursday June 6th, Sunday June 9th