Dukas: Ariane et Barbe-Bleu (Denéve)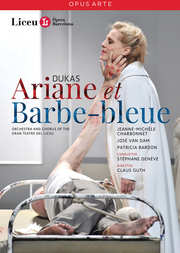 Recorded at the Gran Teatre del Liceu, Barcelona, June/July 2011
Certificate: N/A
Running Time: c.120 mins
Retail Price:
Release Date:
Content Type: Movie
Synopsis:
Paul Dukas based his only opera on Maurice Maeterlinck's symbolist version of a classic tale. 

Free spirit Ariane becomes the sixth wife of the infamous Barbe-Bleue (Bluebeard), who gives his new bride seven keys but prohibits the use of the last. Ariane discovers an array of glittering jewels behind the first six doors, but horrifying surprises await her as she unlocks the seventh...

Claus Guth's production updates the action to the present day, placing it in a brightly lit and sanitised modern villa, consciously at odds with the horror of the wives' incarceration in a concealed basement below. José van Dam is cast as the villainous Barbe-Bleu, while taking on the immensely demanding role of Ariane - who does not leave the stage throughout the entire opera - is American soprano Jeanne-Michèle Charbonnet.

Filmed in High Definition and recorded in true Surround Sound.
Special Features:
Cast Gallery

Related Websites:
http://www.liceubarcelona.cat/en.html
https://www.opusarte.com/

Video Tracks:
NTSC 16:9 Anamorphic

Audio Tracks:
DTS
LPCM Stereo

Subtitle Tracks:
English
French
German
Spanish
Italian
Catalan
Japanese
Korean