British romantic thriller Comes a Bright Day hits DVD this August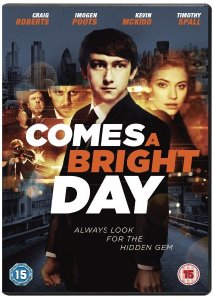 Only the other day we were thinking how few romantic British thrillers there are these days, it's an unusual combination, and then one comes along to brighten up our day.
Written and directed by Simon Aboud and produced by Christine Alderson,
Comes a Bright Day
arrives courtes of
Sony Pictures Home Entertainment
on 6th August.
Starring Craig Roberts, Imogen Poots, Timothy Spall, Kevin McKidd and Josef Atlin, this has a running time of 87 minutes, a 15 certificate, and extras that include behind-the-scenes featurettes with cast and crew, and a photo gallery. The recommended retail price will be £15.99.
Synopsis is as follows...
Love blossoms in the most unusual circumstances when young bellboy Sam and beautiful shop assistant Mary are kidnapped by brutal armed robbers intent on stealing a £1 million brooch. Taken hostage along with belligerent shop owner Charlie, the young couple find themselves falling for each other on this terrifying 'first date'.

This tense and stylish British thriller proves that sometimes extreme pressure can reveal a hidden gem.