Anime Review Roundup
My New Crunchyroll Treat Is...
Occult Academy
! The recent news that NISA has licensed Occult Academy for US Blu-ray release has nudged me into making it a Crunchyroll priority. It doesn't always happen thus, but often when a Crunchyroll property is licensed for physical release, there's a grace period prior to that release when you can still watch it, but afterwards the episodes are removed from the streaming site to not distract purchasers from the shiny discs. So get it watched while you still can.
It's set in a quirky private school in 1999, where the lives and education of the students revolves around the occult. Following the death of the headmaster, his sceptical daughter, herself of student age, comes to take over his position, and in doing so debunk the paranormal, and shut down the whole stupid school. Her arrival coincides with the advent of a new teacher, although his arrival is more unorthodox, appearing as he does, naked in a flash of light, from the year 2012, sent back to save the world by preventing the prophecies of Nostradamus from coming to pass.
Imagine if you will, a comedy version of the X-Files, if the X-Files had Scully half-beating Mulder to death every time he mentioned the paranormal.
Quote:
The year is 1999. At the summit of Japan's "pyramid", Minakamiyama, stands Waldstein academy. Strange occult phenomena occur here, as if drawn by some mysterious force. Those who know it call it "Occult Academy".

The school's president has devoted his life to research into the occult, and the students spend their days both in study and research.

Hearing the news that her father has died, the principal's only daughter Kamashiro Maya, who despises anything and everything that has to do with the occult, visits the school. There she meets Uchida Fumiaki, a self-proclaimed "Time Agent" who claims to have from the year 2012, and who was famous as a child for being able to bend spoons. As they encounter various strange events in the school, the truth behind Fumiaki's time slip to 1999 is gradually revealed.
Last week's first anime review came with a delicious dose of nostalgia, when I got to re-review
Fruits Basket
, this time in its Complete Collection form. It's hard to fathom that it's been 8 years since I first watched it, first experienced its delicate and heart-warming tale of an orphan girl thrown into the most bizarre of circumstances. The Sohma family is cursed; it's members apt to change into the animals of the zodiac when hugged by a member of the opposite sex. Naturally such a curse has left them isolated and withdrawn from society, but when Tohru Honda discovers their secret, she sets about healing the wounds in their souls. It's rare for an anime show not to date, but Fruits Basket has held its relevance well over the last decade.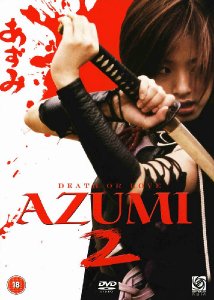 That hit of nostalgia convinced me to seek out another blast from the past. Azumi was the live action adaption of the manga of the same name, the tale of another orphan girl, certainly not as sweet as Tohru Honda, as she was raised to be a lethal assassin. The first film was released in 2004, and this sequel was released the year after, but it's only now that I've finally had the chance to see
Azumi 2: Death or Love
, in which the eponymous sword-wielding killer sets about despatching the final target on her list of foes, and winds up having to first slice through his army, and a bunch of ninja to get to him. See if Azumi 2 follows the law of diminishing returns for sequels by clicking on my review.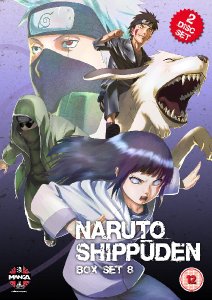 Finally I got to look at
Naruto Shippuden: Collection 8
, which unleashes another set of episodes featuring the bright orange ninja. With fans of Naruto, the question usually boils down to whether the show is in filler mode or not. Alas, with this set of 12 episodes, I have to inform you that the filler has returned, and we're straying once more from the main storyline. On the bright side, while it is filler, it isn't all that bad a filler storyline. I mean it could be worse. There's a resounding endorsement for you, the 21st Century boiled down to four words... "It could be worse".
MVM release Fruits Basket Collection today, although they've had the collection available on mail order for the past week on their Anime on Line site. Azumi 2: Death or Love was released by Optimum Asia back in 2005, and Manga Entertainment have Naruto Shippuden: Collection 8 set for the 27th of February.