TV sci-fi drama Caprica: Part One out on DVD in January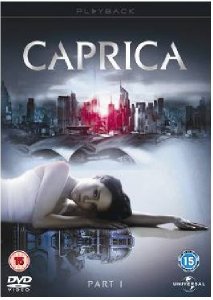 "As finger-on-the-pulse as Battlestar Galatica"
Total Film
CAPRICA: PART 1
Available on DVD from 3rd January 2011
Witness the rise of the Cylons in the breath-taking prequel to the legendary series, Battlestar Galactica
A battle for survival of the human species begins! The opposing worlds of biological and mechanical engineering spectacularly collide in the most terrifying way imaginable in
Caprica: Part 1
available on DVD from
3rd January 2011
, courtesy of
Universal Playback
.
Telling the story of how the murderous Cylons came into being,
Caprica
follows two rival dynasties, the Adamas and the Graystones, as future events are set dreadfully in motion. Following the death of his daughter, Daniel Graystone (
Eric Stoltz
,
Pulp Fiction, Mask
) diverts his grief into researching artificial and biological intelligence and comes into conflict with the charismatic Joseph Adama (
Esai Morales
,
TV's
24
and
Jericho
), beginning a battle between ethics, science and business as the war for the survival of the human race looms on the horizon.
An absorbing and thrilling prequel to
Battlestar Galactica
and following on from the earlier part of the series,
Caprica
delves deeper into the events that lead to the destruction of Caprica at the beginning of the
Battlestar
series and offers answers to many fans' questions
-
whilst the thrilling and compelling events of
Caprica
pose a whole new set of their own.
Produced by the creative masterminds behind
Battlestar Galatica
, including
Ronald D. Moore
and
David Eick
,
Caprica
is not to be missed, with the DVD containing a host of special features including deleted scenes, video blogs and a special feature looking at the world of Caprica with a sneak peak at Part 2, alongside audio commentaries from cast and crew.
Product Information
Title:
Caprica: Part 1
Release Date:
3rd January 2011
Format:
DVD
Cert:
15
Discs:
4
Cat:
8278426
EAN:
5050582784268
DP:
£17.01
RRP:
£24.99
Copyright line:
© 2009 Universal Studios. All Rights Reserved.
Special Features:
Deleted Scenes, Video Blogs, Audio Commentaries, Creating A World, The Look of Caprica, Sneak Peak of Caprica: Part 2
Please visit
www.universal-playback.com
Become a fan on Facebook -
www.facebook.com/playbacktv
Follow Universal Playback on Twitter -
www.twitter.com/playbacktv
Universal Pictures UK is a division of Universal Pictures International, which is part of NBC Universal - one of the world's leading media and entertainment companies in the development, production, and marketing of entertainment, news, and information to a global audience. Formed in May 2004 through the combining of NBC and Vivendi Universal Entertainment, NBC Universal owns and operates a valuable portfolio of news and entertainment networks, a premier motion picture company, significant television production operations, a leading television stations group, and world-renowned theme parks. NBC Universal is 80%-owned by General Electric, with 20% controlled by Vivendi Universal.