Anime Review Roundup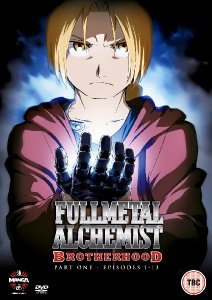 Getting straight into the reviews this week, of which there are two. The biggie of course is the new Fullmetal Alchemist Series. I took a look at the first thirteen episodes in
Fullmetal Alchemist Brotherhood: Part 1
. It's the tale of two brothers, Edward and Alphonse Elric who made the ultimate sacrifice when they tried unsuccessfully to resurrect their mother. Now Ed has mechanical automail where his arm and leg used to be, and Alphonse is a disembodied soul bound to a hollow suit of armour. The story follows them as they try to get their bodies back. I fell in love with this tale of magical alchemy set in an alternate Europe at the start of the twentieth century, when it was released a few years ago as Fullmetal Alchemist. But that series raced ahead of the manga, and had to fashion a unique ending for its story. Brotherhood follows the manga much more closely now that it has concluded, and the story will eventually go in a completely different direction. The first thirteen episodes of Brotherhood follow much the same path as the first half of the original series though, so I got to do a compare and contrast, and wound up with something of a thesis. You can skim through it if you click the link.
My review of
Bleach: Series 5 Part 1
is a lot shorter. This serial anime continues on like an unstoppable juggernaut. In Japan the episodes are already somewhere in the high-200s. With this collection of episodes, we come tantalisingly close to the hundredth episode of Bleach to be released in the UK. I'm finding it pretty hard going though, as we're in the middle of what feels like an endless filler arc, and there's only so much of people running around with big swords that a man can take. See if I reach my limit by reading my review.
It's all Manga Entertainment, and today is the big anime event of the year, with the release of Fullmetal Alchemist Brotherhood: Part 1, on both DVD and Blu-Ray. If you want Bleach: Series 5 Part 1 instead, you'll have to wait a week till the 30th of August.