Fullmetal Alchemist: Brotherhood - Part 1 (2 Discs)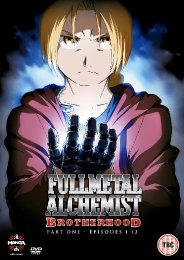 Hiromu Arakawa's manga faithfully adapted...
Certificate: 15
Running Time: 318 mins
Retail Price: £24.99
Release Date: 2010
Content Type: TV Series
Synopsis:
Alchemy - the mystic science of transmutation. Gifted alchemists can break down and reconstruct matter using the "Law of Equivalent Exchange," creating miraculous things. But one taboo can never be broken - human transmutation. The Elric brothers Edward and Alphonse broke the taboo in an attempt to resurrect their late mother and as a result, lost everything.

Al's soul was transferred to a suit of living armour and Ed lost two limbs, confining him to mechanical auto-mail. To recover what they've lost they embarked on a journey to find the fabled Philosopher's Stone. The closer they get to the hidden truth of the Philosopher's Stone, the deeper they fall under shadowy schemes and the perils of unnatural creatures.

The military nation of Amestris, the grudges and hatreds of a persecuted people, and the countless tragedies caused by alchemy all form a dark vortex that will draw people and countries into its void. The Elric brothers forge ahead in their quest to transmute despair into hope...
Special Features:
Audio Commentary (on eps 1 & 10)
Opening & Closing Songs

Video Tracks:
1.78:1 anamorphic widescreen

Audio Tracks:
Dolby Digital 5.1 Surround English
Dolby Digital 2.0 Surround Japanese

Subtitle Tracks:
English

Directed By:
Yasuhiro Irie

Written By:
Hiroshi Ohnogi
Hiromu Arakawa

Casting By:
Rie Kugimiya
Romi Park
Iemasa Kayumi
Megumi Takamoto
Shinichiro Miki
Unshou Ishizuka
Fumiko Orikasa
Hidekatsu Shibata
Keiji Fujiwara
Kenji Utsumi
Kenta Miyake
Kikuko Inoue
Masayuki Omoro
Minami Takayama
Maxey Whitehead
Vic Mignogna
Caitlin Glass
Colleen Clinkenbeard
J. Michael Tatum
Jerry Russell
John Swasey
Travis Willingham
Ed Blaylock
Kent Williams
Sonny Strait
Laura Bailey
Wendy Powell
Christopher R. Sabat

Music From:
Akira Senju

Editor:
Takayuki Tabata

Producer:
Hiro Maruyama
Nobuyuki Kurashige
Noritomo Yonai
Ryo Oyama

Distributor:
Manga Entertainment